November 9, 2022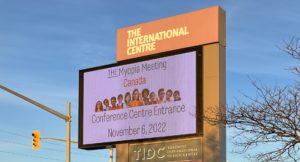 TORONTO – With Canada the first country to establish myopia management as the standard of care and offering more approved treatments to slow the progression of myopia than the United States, Toronto was an optimal location for THE Myopia Meeting held here Sunday, Nov. 6. Co-presented by Review of Myopia Management (RMM) and CRO (Clinical & Refractive Optometry), THE Myopia Meeting featured a full day of COPE-approved continuing education courses interspersed with manufacturer workshops.
'Myopia Control — Where We Are Now and Where We Are Going'
Following an introduction by RMM's Chief Medical Editor Dwight Akerman, OD, MBA, FAAO, FBCLA, FIACLE, THE Myopia Meeting began with a CE presentation by Debbie Jones, BSc, FCOptom, on "Myopia Control — Where We Are Now and Where We Are Going." Her COPE course started by reiterating what many of the 180 attendees already knew: Canada is the only country that has stated a standard of care for myopia management.
She then shared analogies to help patients and parents understand the dangers that can result from an elongated eye by comparing it to stretching plastic wrap on a bowl or blowing up a balloon. Her presentation then detailed a step-by-step guide for practitioners to follow when encountering a child with progressing myopia — assess risk, modify behavior, initiate management, and monitor.
Within her "initiate management" section, she described the various treatments currently available, including the three main spectacle lenses (Hoya MiyoSmart, Stellest from EssilorLuxottica, and the SightGlass Vision lens being sold in Canada as MiSight spectacles), contact lenses (including orthokeratology and daily wear soft lenses), pharmaceutical interventions (atropine), and combination therapies (primarily OrthoK with atropine).
Prof. Jones concluded with a prediction of what the future might hold for myopia management, including algorithms to identify at-risk patients, genetic testing to determine a predisposition for myopia, commercially available atropine, red-light therapy, and perhaps even legislation mandating outdoor time and eye examinations.
'Managing Myopia Control Challenges and Complications'
Vishakha Thakrar, OD, FAAO, FSLS, in her presentation on "Managing Myopia Control Challenges and Complications," reiterated Canada's myopia management standard of care along with the available treatments, adding the genetic and environmental factors influencing myopia and the fact that the pandemic increased its prevalence.
Her conclusion was a call to action to all in attendance: "This is the most exciting time to manage myopia. Myopia management is an area where optometry has a huge impact. Our expertise can change lives and the course of worldwide vision loss!"
However, it's important to "always under promise and over deliver," she said. "I always say 'slow progression' not 'stop' it."
'Myopia Management: One Child At A Time'
The man who literally wrote the book on myopia management, Langis Michaud, OD, MSc, author of Managing Myopia One Child at a Time, began his CE course imploring attendees, "You have to do something instead of single vision lenses. You have to catch these myopes early and act on day one." Because "Any myopia progression before the age of 10 is a time bomb!" he said. "Do everything you can not to go over 26mm," he added, referring to the size of the eyeball at which it will start to cause complications later in life.
To do so, he presented the three pillars of myopia management — control of the environment, control of binocular vision, and control of the blur. For example, when controlling the environment, although only "20 minutes of continuous usage of smartphones increases myopia risk and progression in teenagers," that negative effect can be canceled if outdoor exposure is more than 14 hours per week." He cited near work, lighting, and nutrition as other contributing factors.
After presenting the available treatments for myopia management, he concluded: combined treatments may be needed for those evolving fast or at high risk, regular follow-up is mandatory to achieve the best outcome, and doing nothing is no longer acceptable.
'Tips for Troubleshooting Myopia Management'
The final speaker of the day-long THE Myopia Meeting was Stephanie Ramdass, OD, MS, MBA, FAAO, FSLS, on "Tips for Troubleshooting Myopia Management." "Myopia spectacles really do have an advantage here in Canada," she said, referencing the spectacle lenses available there that are not yet FDA approved in the U.S. "If we can target that 6- to 8-year-old group we can make a difference."
Dr. Ramdass was among the few who presented to the FDA back in 2016, asking "How do we get devices approved for myopia control?" She then shared the encouraging developments that have occurred since then. In the United States, soft contact lenses were the first FDA-approved product to slow the progression of myopia in children in 2019, and the first overnight contact lens (orthokeratology) to slow the progression of myopia in children was approved in 2021. In Canada, the first Health Canada product to slow the progression of myopia in children was approved in 2017, the first defocus spectacles capable of slowing the progression of myopia in children were introduced in 2020, and in 2022, Health Canada approved overnight contact lenses to slow the progression of myopia in children.
Following a brief description of available treatments, Dr. Ramdass then shared several case studies of her young patients' experiences with myopia management. Among her recommendations to practitioners while presenting these case studies were: "Speak to the child one on one as opposed to just speaking with the parent." And "We want parents to understand there's a difference between correcting myopia and treating it!"
THE Myopia Meeting Sponsors Presented Manufacturer Workshops
Manufacturer workshops were presented by event sponsors CooperVision, EssilorLuxottica, and Hoya. Johnson & Johnson Vision was also a sponsor and shared information about its ACUVUE Abiliti lenses newly available in Canada.
In his presentation, Hoya's Warren Modlin welcomed attendees to the MiYOVERSE, where all the tools for myopia care by Hoya reside. He then shared the results of the three-year follow-up clinical study and the six-year clinical study on the DIMS technology used by Hoya's MiYOSMART lenses. However, "It's not the clinical evidence that sells," he said. "We are here to create heroes. How we do it is myopia management." In the Hero's Journey, "you are the mentor," he told attendees about their role in helping their patients address their progressing myopia.
CooperVision's sponsor workshop was presented by Amy Chow, a licensed dispensing optician, certified contact lens fitter, and a Fellow of the American Academy of Optometry. With seven years of data, the MiSight 1 day clinical study "is the longest continuous soft contact lens study for myopia management," she said. What were the results? In particular, "What happens when we take the children out of the lens?" Is there a rebound? She shared three results: 1. No evidence of continued slow growth, nor further accumulation of treatment effect. 2. No evidence of accelerated growth that would cancel prior treatment effect. And 3. Age-normal growth following treatment cessation thus retaining the prior treatment effect.
Millicent Knight, OD, FAAO, FARM, Senior Vice President, Customer Development Group, at EssilorLuxottica NA, opened the workshop presentation sponsored by EssilorLuxottica by starting with the risk factors for the development of myopia. She then showed a video illustrating the H.A.L.T. technology (Highly Aspherical Lenslet Target) behind the company's Stellest lens. She was followed by Director of Vision Science, Dr. Jason Shen, PhD, FAAO, who shared three-year results from the technology's clinical trial.
GMAC (the Global Myopia Awareness Coalition) also sponsored THE Myopia Meeting in Toronto this month. As GMAC Board Chair, Dr. Knight described how the organization has been building consumer awareness around myopia management since its founding in 2018. "I've never seen such collaboration of industry members," she said.
She described how GMAC has pooled the assets of its members to launch initiatives using influencers to reach consumers where they live, in social media. Campaigns she described included "Little Kid License" and "Screen Staycation," among others. After GMAC first went international with the Screen Staycation in the U.K., "The next campaign we're working on is in Canada," she concluded.
THE Myopia Meeting Conference Speakers and Sponsors Share Event Highlights
To get more insight into the field of myopia management from the leading experts in the field, Review of Myopia Management went straight to the source. Listen to the short interview clips below with speakers and sponsors  of THE Myopia Meeting to learn more about the latest myopia management topics.
Langis Michaud, OD, MSc
Warren Modlin, Vice President of Technical Marketing, HOYA Vision Care
Stephanie Ramdass, OD, MS, MBA, FAAO, FSLS
Debbie Jones, BSc, FCOptom, FAAO
Vishakha Thakrar, OD, FAAO, FSLS
Rick Gadd, President, EssilorLuxottica Canada and Essilor Instruments North America