August 24, 2022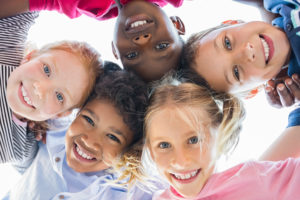 ST. LOUIS — The Global Myopia Awareness Coalition (GMAC) is putting the "G" in GMAC by going global with its Summer Staycation campaign, expanding into the U.K. tomorrow, Aug. 25, 2022. The consumer campaign already launched in the U.S. earlier this summer.
The goal of the Summer Staycation campaign is to increase awareness of myopia among parents of children aged 6-10 years old and also to motivate parents to ask their optometrist about new treatment options to slow the progression of myopia.  
During time off from school in the summer, children may spend most of their days off watching TV or playing on devices, contributing to the progression of myopia. Research from GMAC has shown that over a third (36%) of children are spending upwards of five hours on screens outside of school time. 
Now, for the upcoming Summer Bank Holiday Weekend in the U.K. (August 27-29), GMAC wants to encourage families to go on a "Screen Staycation" and challenge them to go the long weekend without any screens. The organization wants to encourage parents and children to take part in "sight-saving" activities to support long-term eye health.  
The campaign will drive parents to the GMAC website to download the following materials:
The "Screen Staycation"

Guide created with Dr. Keyur Patel to support parents this summer. The guide includes:

 

Fun family "screen-free" activity swaps — swapping eye-straining activities such as watching TV with fun outdoor activities 

Top tips to help parents understand how to keep their child's eyes healthy

 

Signs parents should look out for to see if their child has myopia

 

Information on myopia and myopia management 

 

The Optometrist Discussion Guide — a handy guide to download to your phone or tablet featuring six key questions for parents to ask their child's optometrist at their next eye examination

 
Additionally, GMAC's influencer partners will post to their social media channels to amplify campaign reach and drive traffic to the campaign hub. Influencers include optometrist Dr. Keyur Patel, Dr. Stephanie Ooi, and celebrity and myopia sufferer Myleene Klass, all of whom will share their personal connections to myopia. 
Social content will begin to deploy on August 25, 2022, and will continue to go live during that day and over the U.K. Bank Holiday weekend.