December 15, 2021
By Joe Rappon, OD, MS, FAAO, and Kylvin Ho, OD, FIAOMC
As children continue to develop myopia at earlier ages, and being that we can only slow the progression of myopia (not reverse it), efficacious spectacle lenses will play a critical role in myopia management.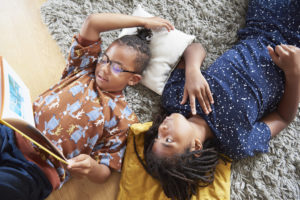 With the prevalence of myopia increasing around the world and estimated to affect almost half of the world's population in less than three decades,1 increasing incidence of myopia-related eye disease and associated blindness will cause a massive economic and societal impact.2 Interventions are urgently needed to change this course, and currently, only a few options are available.
SightGlass Vision Diffusion Optics Technology (DOT) spectacle lenses are a revolutionary development in myopia management. University of Washington researchers Jay and Maureen Neitz discovered that abnormally high retinal contrast signaling leads to high myopia.3 DOT spectacle lenses are the only myopia management treatment specifically designed to reduce retinal contrast signaling.3,4 This is accomplished through the incorporation of thousands of microscopic, light-scattering elements throughout the entirety of the lens (i.e., the treatment zone), except for a small clear zone that is aligned with the patient's pupil. Under certain circumstances, the appearance of the lenses is unique, although the lenses generally look normal when mounted into an ophthalmic frame and worn by a patient.
While other optical interventions use plus optical power that may cause refractive blur when the patient looks through the treatment zone, Diffusion Optics Technology was designed to provide contrast-lowering myopia management without meaningful loss of visual acuity. Unlike other technologies, DOT spectacle lenses were specifically designed to allow the patient to function while looking through the treatment zone, while the clear zone was added to enable the patient to see without any contrast reduction when looking at something very small or faint.3,4
The pivotal, multi-center, randomized, controlled clinical trial evaluating this technology has demonstrated the safety and efficacy of DOT spectacle lenses.5,6 While this product is not currently FDA approved or marketed in the United States, SightGlass Vision is presently conducting a limited launch of our DOT spectacle lenses in Canada. SightGlass Vision DOT Spectacle Lenses are indicated in Canada for the correction of myopia (with or without astigmatism) and for the reduction in the rate of myopic progression in children who are aged 6 to 13 years old.
I recently caught up with Dr. Kylvin Ho, from Burnaby, British Columbia, one of SightGlass Vision's pilot Canadian accounts, and I asked him about his experience to date with DOT spectacle lenses.
Joe Rappon, OD, MS, FAAO: Tell us a little bit about your practice, the community you serve, and the types of patients you see.
Kylvin Ho, OD, FIAOMC: Our full-service optometric clinic offers comprehensive eye examinations and specialty contact lens fittings. We are equipped with modern medical instruments to detect, monitor, and treat ocular diseases. Our optical has a wide selection of spectacle frames. Due to the geographic locations of our offices, we serve a high volume of minority populations, particularly Asian patients. Within that group, myopia is extremely prevalent,7,8 so fast progressing myopic children are seen at our office every day. Our goal is to combat the increasing prevalence of myopia, therefore helping to reduce the risk of myopia-related ocular pathologies as they get older. We are determined to complete our mission by providing education on visual health and intervening in myopia progression.
Dr. Rappon: Before DOT spectacle lenses were available, what myopia management technologies were you offering to your patients?
Dr. Ho: Before DOT spectacle lenses, we provided other myopia management technologies, including orthokeratology lenses, dual-focus soft contact lenses, atropine therapy, and optical defocus spectacle lenses. We continue to offer those and also offer combination therapy on some occasions. We try to understand the child's daily activities before recommending a particular management modality. 
Dr. Rappon: What did you think of the SightGlass Vision mechanism of action before you started to use it in practice?
Dr. Ho: We find the mechanism of action incredibly unique. Other than atropine, the most commonly used modalities are based on optical defocus using PLUS power. Contrast lowering for myopia management was definitely something we had never heard before. We were eager to see how that compares to our current management modalities. 
Dr. Rappon: About how many patients have you fit thus far with DOT spectacle lenses?
Dr. Ho: As of October 2021, we have provided around 40 children with DOT spectacle lenses.
Dr. Rappon: How do parents react to the product when you first recommend DOT spectacle lenses for their child?
Dr. Ho: They would first comment on the appearance. Because of mandatory mask wear in our clinic, they initially thought the lens appearance was due to the fog. Only until they examine the DOT lenses do they realize that the appearance was by design. Surprisingly once they put the demo spectacles on their child, they were not bothered by the appearance, as it is much less noticeable.
Dr. Rappon: How do children react when they are dispensed with their actual DOT spectacles?
Dr. Ho: Most children are fine with the DOT spectacles as long as they like the actual spectacle frames. We have only had one child who did not like the appearance of the lens.
Dr. Rappon: What has your clinical experience with DOT spectacle lenses been to date?
Dr. Ho: Our experience with the DOT spectacle lenses has been extremely positive. While it is still very early, in my experience, we have thus far had excellent myopia stabilization and almost no side effects as reported by our patients. We believe this technology will become a key player in combating myopia in the near future. We also think this technology may one day replace all single vision spectacle lenses in children presenting with progressive myopia.
Spectacle Lenses Will Play A Large Role in the Future
It seems clear that the prevalence of myopia continues to increase, with COVID response measures potentially accelerating this increase for some patients.9,10 The eye health risks of myopia are also now quite clear.11 As children continue to develop myopia at earlier ages,12 and being that we can only slow the progression of myopia (not reverse it), efficacious spectacle lenses will play a critical role in myopia management. Therefore, companies must continue to invest and bring these innovative spectacles to market so that eye care professionals can help reduce the tremendous increase in myopia-related eye diseases expected in the coming decades.
Dr. Joe Rappon is the Chief Medical Officer of SightGlass Vision, Inc. and has been involved with myopia clinical research since 2009. An optometrist by training, he has spent the last 15 years working in the surgical and vision care medical device industry with roles spanning several functional areas, including clinical and medical affairs as well as R&D program management. Dr. Rappon is a fellow of the American Academy of Optometry, is board certified by the American Board of Optometry, and is a graduate of the American Course on Drug Development and Regulatory Sciences.
 
Dr. Kylvin Ho has been in private practice since 2009 and is currently
operating three practices in greater Vancouver, British Columbia. The
demographics of his clientele and the prevalence of myopia led him to
dedicate his interest to myopia management. From custom-designed
orthokeratology lenses to combination therapy, Dr. Ho is keen to learn
about the latest research and tools to halt the progression of myopia in
children. He is a graduate of Salus University School of Optometry
and a fellow of the International Academy of Orthokeratology and Myopia Control.

References
Holden BA, Fricke TR, Wilson DA, et al. Global Prevalence of Myopia and High Myopia and Temporal Trends from 2000 through 2050.

Ophthalmology

. 2016;123(5):1036-1042. doi:10.1016/j.ophtha.2016.01.006

Holden B, Sankaridurg P, Smith E, Aller T, Jong M, He M. Myopia, an underrated global challenge to vision: where the current data takes us on myopia control.

Eye

. 2014;28(2):142-146. doi:10.1038/eye.2013.256

Rappon J, Neitz J, Neitz M. Novel DOT Lenses from SightGlass Vision Show Great Promise to Fight Myopia.

Rev Myopia Manag

. Published online April 21, 2020. Accessed June 16, 2020. https://reviewofmm.com/novel-dot-lenses-from-sightglass-vision-show-great-promise-to-fight-myopia/
Rappon J, Woods J, Jones D, Jones LW. Tolerability of novel myopia control spectacle designs.

Invest Ophthalmol Vis Sci

. 2019;60(9):5845-5845.

Rappon J, Neitz J, Neitz M, Young G, Chalberg T. CYPRESS 12-month Results: Safety and Efficacy from a Pivotal Study of Novel Spectacle Lenses Designed to Reduce Myopia Progression.

Optom Vis Sci

. 2020;97:E-abstract 200036.

SGV data on file 2021. Control of Myopia Using Peripheral Diffusion Lenses: Efficacy and Safety Study, 24-month results (n = 256, 14 North American sites).

Gwiazda J, Hyman L, Dong LM, et al. Factors Associated with High Myopia After 7 Years of Follow-up in the Correction of Myopia Evaluation Trial (COMET) Cohort.

Ophthalmic Epidemiol

. 2007;14(4):230-237. doi:10.1080/01658100701486459

Luong TQ, Shu YH, Modjtahedi BS, et al. Racial and Ethnic Differences in Myopia Progression in a Large, Diverse Cohort of Pediatric Patients.

Invest Ophthalmol Vis Sci

. 2020;61(13):20-20. doi:10.1167/iovs.61.13.20

Hu Y, Zhao F, Ding X, et al. Rates of Myopia Development in Young Chinese Schoolchildren During the Outbreak of COVID-19.

JAMA Ophthalmol

. Published online September 16, 2021. doi:10.1001/jamaophthalmol.2021.3563

Ma D, Wei S, Li SM, et al. Progression of myopia in a natural cohort of Chinese children during COVID-19 pandemic.

Graefes Arch Clin Exp Ophthalmol

. Published online July 21, 2021:1-8. doi:10.1007/s00417-021-05305-x

Flitcroft DI. The complex interactions of retinal, optical and environmental factors in myopia aetiology.

Prog Retin Eye Res

. 2012;31(6):622-660. doi:10.1016/j.preteyeres.2012.06.004

McCullough SJ, O'Donoghue L, Saunders KJ. Six Year Refractive Change among White Children and Young Adults: Evidence for Significant Increase in Myopia among White UK Children.

PLOS ONE

. 2016;11(1):e0146332. doi:10.1371/journal.pone.0146332