July 5, 2022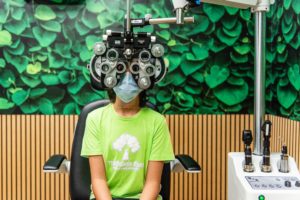 BOULDER, Colo. — Treehouse Eyes partner practices now have access to a new myopia management resource, Treehouse Eyes University. The online learning platform is available exclusively to Treehouse Eyes practices, and it provides video-based clinical training for doctors from some of the  leading experts in myopia management. Training includes modules based on the latest clinical  studies, including from Treehouse Eyes' own CAMP study.
"Myopia management is a fast-moving field, and as the pioneering leaders in this space, we want to ensure our doctors have the latest clinical training and guidance on the best treatment for each child," said Thanh Mai, OD, FSLS, Treehouse Eyes Director of Myopia Management Services. "We're excited to launch Treehouse Eyes University as a platform where the latest research and clinical guidance is available from leading experts in the field. As an online platform, our doctor partners can log in at any time and get the most up-to-date information on myopia management while working at their own pace."
"We continue to deliver the highest quality myopia care to patients and find opportunities to make  myopia management a daily habit for parents and their kids," said Gary Gerber, OD, Co-founder of  Treehouse Eyes. "That starts at the practice level with the doctor. It's critical that practices continue  to prioritize their own education on myopia and the best practices for treatment. Treehouse Eyes University has real-life, evidence-based content for every doctor — those just starting out and those  looking for advanced clinical techniques. It's all under one roof and all delivered by experts." 
Treehouse Eyes University features courses from experts such as Earl Smith III, OD, PhD; Thomas Aller, OD, FBCLA; Jeffrey Cooper, MS, OD, FAAO, FCOVD; Kevin Chan, OD, FAAO; Dana Reinhardt, OD; and Thanh Mai, OD, FSLS. New courses will continue to be added to the platform  for advanced topics and will reflect new products and studies as they become available.