June 24, 2022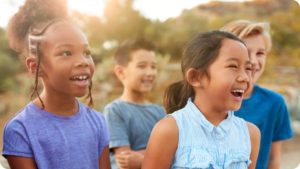 ST. LOUIS – Building on the success of previous social media campaigns, the Global Myopia Awareness Coalition (GMAC) has launched a new website at myopiaawareness.org to offer consumers as well as eye care professionals more myopia management resources.
The website is designed to be a credible resource that helps consumers take the awareness they've gleaned from GMAC's social media campaigns and turn it into action. The site serves as a sustainable hub for parents to turn to when they want to dive deeper into myopia management and access resources that can help them take the next steps in myopia care for their children. 
Parents can use the website to get answers to some of the most common myopia-related questions, including: What is myopia? How do I prevent myopia from worsening? Is there a cure for myopia? and Should I be worried about my child's myopia? Each response is crafted with data from the latest myopia research. There is also information on the available treatments for myopia management, the risks of untreated myopia, and GMAC's efforts to spread awareness about the myopia epidemic. 
One of the most valuable resources on the new website is the Eye Doctor Discussion Guide. Parents can download this free resource that will guide them through some of the most important questions to ask their child's eye doctor about myopia and myopia management on their next visit. ECPs should be prepared to answer the questions parents bring to them after downloading and reading the discussion guide.
Though many of these resources are geared towards parents, GMAC hopes that ECPs will also recognize the value in sharing these tools within their communities of parents. The goal is to create a platform that can educate all parents – not just those who interact with the social media campaigns. 
"This is a call to action for eye care professionals," said GMAC Board Chair Millicent Knight, OD, FAAO, FARM, Senior Vice President, Customer Development Group, at EssilorLuxottica NA. "Familiarize yourself with the content on the website, think of answers to the discussion guide, and be prepared to have meaningful and valuable conversations with your patients and their parents. While we hope that this is a fun way to educate parents on myopia, we also hope that our colleagues will answer the call and do their part to further these education initiatives." 
To kick off the new website and the summer months, GMAC is hosting the Screen Staycation campaign. The campaign is a simple educational message about myopia to rally parents and kids to take 24 hours off screen time and enjoy time outdoors. Additionally, a wide range of social media influencers and ECP influencers will be posting about myopia awareness over the next month. One of the goals of the campaign is to encourage consumers to talk to their ECPs to learn more about new treatment options for myopia. 
More information about this latest campaign and the new GMAC website can be found at myopiaawareness.org.