April 7, 2022
COSTA MESA, Calif.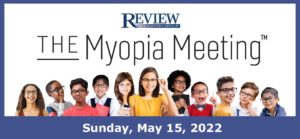 — The Review Education Group will host THE Myopia Meeting here on Sunday, May 15. This live, in-person meeting will feature five hours of COPE-approved CE and two hours of manufacturer workshops.
Review of Myopia Management's Chief Medical Editor Dwight Akerman, OD, MBA, FAAO, FBCLA, FIACLE, will chair the event. The all-day meeting will feature sessions from leaders in the myopia management field, including: Mick Kling, OD; Kathryn Richdale, OD, Phd; Melanie Frogozo, OD; Celia Gong, OD, MS; and Thanh Mai, OD. The group will discuss overcoming obstacles to incorporating myopia management into a primary care practice, individualizing myopia control protocols to your patients, and prescribing for progressive myopes, among several other key topics.
Experts from Johnson & Johnson Vision, CooperVision, and Visioneering Technologies Inc. (VTI) will share innovations from their companies on the latest in myopia management.
To learn more about THE Myopia Meeting and to register, click here.