May 20, 2022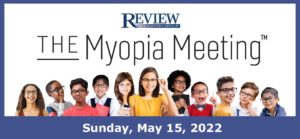 COSTA MESA, Calif. — THE Myopia Meeting is back in person and returned with an all-day event here Sunday, May 15. Five hours of COPE-approved continuing education combined with manufacturer workshops immersed attendees in an extensive education about myopia management and how to implement it into their optometric practices. 
Mick Kling, OD, set the tone of the day's education with "Overcoming Obstacles to Incorporating Myopia Management Services into Your Primary Care." He shared the four keys to success — The Doctor, The Patient, The Process, and Follow-up.
Then, the following COPE CE courses were presented (click on the presenter's name to see them describe their content):
Prescribing Myopia Management: Individualizing Myopia Control Protocols to Your Patients by

Melanie Frogozo, OD

Prescribing for the Progressive Myope by

Celia Gong, OD, MS

Myopia Management Case Studies by

Thanh Mai, OD

Myopia Management: Putting the Evidence into Practice by Kathryn Richdale, OD, PhD
In addition, manufacturer workshops were interspersed throughout the day. Felicia Timmerman, OD, MS, FAAO, Manager, Myopia Management, for CooperVision, surveyed the audience to determine their topics of interest then delivered the information they were looking for.
For the Johnson & Johnson Vision workshop, Moshe Mendelson, OD, FIAO, shared that Acuvue Abiliti overnight is the first FDA-approved orthokeratology lens for myopia management. He also emphasized how communicating the "why" gains trust and understanding.
Douglas Benoit, OD, FAAO, Executive Director, Professional Services, for Visioneering Technologies, Inc. (VTI) rounded out the manufacturer workshops with a discussion about VTI's ongoing studies related to NaturalVue Multifocal's efficacy for myopia treatment.
While this was the first time THE Myopia Meeting has been held in person since the start of the pandemic, a popular webinar series was hosted during the hiatus. Videos of these webinars are now available for on-demand viewing here.
THE Myopia Meeting is hosted by the Review Education Group. The May 15th event was chaired by Review of Myopia Management's Chief Medical Editor Dwight Akerman, OD, MBA, FAAO, FBCLA, FIACLE. Sponsors were Johnson & Johnson Vision, CooperVision, VTI, Oculus, Haag-Streit, and Topcon.