April 7, 2022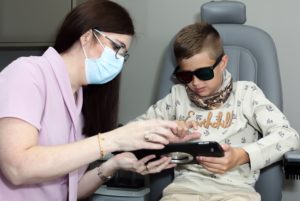 AMSTERDAM, Netherlands — Eyeli, a mobile app designed to make myopia management and binocular vision more accessible to eye care practitioners, announced its latest myopia management resources. The tablet-based app offers an efficient way to capture results during consultations, without disrupting patient engagement.
Eyeli's myopia management solutions target two key concerns: identifying pre-myopes and patients at risk of myopia progression, and choosing a myopia management treatment plan. Eyeli works to automatically identify pre-myopes and patients at risk of myopia progression, and it generates treatment suggestions based on the latest research. The app features a myopia risk assessment, an axial length estimator, and normative axial length and refractive data.
Eyeli also features separate binocular vision solutions to identify patients with binocular conditions and ensure single clear vision. Patients can use the app to do visual therapy at home, while practitioners can remotely keep an eye on progress.
"As part of our commitment to support healthy eyesight in this digital age, we're constantly working toward creating smarter solutions to seamlessly incorporate myopia management and binocular vision into any eye test, without the need for extensive continuous training, multiple expensive equipment, and time-consuming manual tests," said Ilse Homan, optometrist and co-founder of Eyeli.
"As optometrists ourselves, we personally experienced the challenges of balancing a comprehensive visual assessment with the economics of running a business. With Eyeli, we use technology to optimize testing through automation, helping you do more in less time," said Francois van der Merwe, optometrist and co-founder of Eyeli.
The Eyeli mobile app is available for a two-week free trial and a subsequent monthly subscription.