sponsored content
August 15, 2023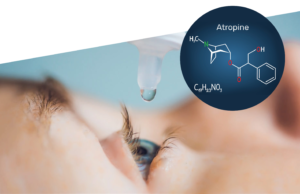 Myopia is the most common eye disease in children and has experienced a dramatic increase in prevalence over the last 30 years. Once considered a benign refractive condition, even at low levels, myopia is now associated with many serious ophthalmic co-morbidities. The greater the severity of myopia, the higher the risk of these ophthalmic co-morbidities later in life. Sydnexis was founded with the goal of developing a proprietary, stable, topical eye drop to treat the progression of myopia in children and minimize the risk of co-morbidities.
Founded in 2014, Sydnexis is a privately held, clinical-stage biopharmaceutical company based in San Diego. Sydnexis is currently evaluating its patented eye drop formulation, SYD-101, in a Phase III clinical trial to decrease myopia progression in children that will read out in May 2024.
To learn more directly from the founders of Sydnexis about what makes their formula unique and how it will benefit juvenile-onset myopic children, Review of Myopia Management's Chief Medical Editor Dwight Akerman, OD, MBA, FAAO, FBCLA, FIACLE, caught up with Gregory Ostrow, MD, and Patrick Johnson, PhD, and conducted the following interview.
Dwight Akerman, OD, MBA: What was the founding principle and objective behind creating Sydnexis?
Gregory Ostrow, MD: I have a large pediatric ophthalmology practice at Scripps Clinic in San Diego and, like other eye care providers, noticed the marked increase in myopia incidence and severity confirmed in extensive epidemiologic studies. For a disease so prevalent it is remarkable that until about 10 years ago we had very few tools to address progressive myopia. The strong association of myopia with severe back-of-the-eye pathologies later in life has been well understood for many years, but no preventative treatments have been available.
Dr. Akerman: Why did Sydnexis choose to study topical low-dose atropine, specifically its proprietary formulation SYD-101, as an intervention for juvenile-onset myopia?
Dr. Ostrow: I followed with interest the early data from the Singapore Eye Institute ATOM 2 study showing almost equivalent efficacy of 0.01% atropine in their population compared with approved 1% and 0.5% atropine, but with virtually no side effects. I became an early adopter of using compounded 0.01% atropine as the efficacy data at the time appeared strong, and there was limited downside from a safety perspective. I finally had something to offer my patients with myopic progression. Once I started using compounded 0.01% atropine, I noticed a significant variability in physiologic response including pupil size and photophobia in many of my early treated patients, which was likely due to early variability in compounding practices. There was also significant fluctuation in compounding availability and pricing.
Once it became evident that this giant unmet need could not be reliably met with compounded products, my partners and I embarked on significant research on compounded low-dose atropine. Compounding pharmacies, while a short-term solution, could not address the vast unmet need (including quality) on a long-term basis, and we recognized immediately that they were not made uniformly by each pharmacy nor was the drug product shelf stable in standard compounded products. 
Unlike an FDA-approved product, there are no specifications for formulations that need to be approved and no release specifications or testing necessary for potency, pH, or sterility. Each compounding pharmacy "manufactured" 0.01% atropine by its own methodology, never needing to test to verify the product they made was, in fact, 0.01%. 
Sydnexis was created to take low-dose atropine to the next inevitable step: developing an FDA-approved product that was highly efficacious, safe, and had all the desirable characteristics to create the best-in-class product that eye care providers could rely on.
Dr. Akerman: What is unique about the SYD-101 formulation? How is it different from compounded atropine formulations? 
Patrick Johnson, PhD: The Sydnexis formulation utilizes a unique ingredient that stabilizes atropine at a comfortable and close-to-physiologic pH. Most people (and most compounding pharmacies) do not realize that atropine is a very unstable drug. Richdale et al. 2022 and 2023 surveyed compounding pharmacies that distribute low-dose atropine and found alarmingly high variability in formulations and unacceptably high instability for a product that gets used chronically in kids. 
Atropine in some compounded formulations degraded at more than 5% in eight weeks. This is alarming because the FDA requires that drugs demonstrate reasonable stability before they can be approved (<5% degradation for 18-24 months). To prevent this rapid atropine degradation, the pH of atropine in normal water-based solutions, like those used by everyone but Sydnexis, must be dropped below pH 5, which is very acidic and can be quite uncomfortable. Most people also do not know that lowering the pH of atropine causes problems for the drug by adding a positive charge, resulting in poor bioavailability. Low-pH atropine likely does not work as well because it is not very bioavailable. However, because most formulations are made in water-based environments, they must drop the pH for stability. Sydnexis avoids these problems with our unique stabilizing excipient. SYD-101 is designed specifically for comfort, stability, and maximal efficacy, all of which should enhance patient compliance.
Dr. Akerman: Please explain the design of the STAR Study, Sydnexis' pivotal Phase III clinical trial for SYD-101. 
Dr. Ostrow: Right from the onset, we decided that in order to test thoroughly and for eye care providers to have confidence in SYD-101, we needed to do a very robust clinical study. Our STAR Study is the most extensive placebo-controlled clinical trial for progressive myopia treatment ever conducted. It is ~50% larger than the CHAMP study, with over 850 patients enrolled. We like to say that we designed our study as if we were a large pharmaceutical company where cost was a secondary consideration. By having such a robust study, we hope that we will be able to meet our primary endpoint with high statistical significance and also analyze several key secondary endpoints. 
The study design consists of three arms, a placebo arm, and two treatment arms of SYD-101 0.01% and 0.03% atropine. We enrolled >280 subjects per arm. The FDA requires a three-year study, so we are just completing the final months for the last patient enrolled. Subjects will then be re-randomized into a one-year washout (except placebo patients who will receive 0.03% atropine drops for the fourth year).
Dr. Akerman: If approved, what barriers do you anticipate when launching SYD-101 in the U.S. market? How will Sydnexis overcome those barriers? 
Dr. Johnson: Before entering the clinic, we took years to carefully curate a formulation intended to maximize efficacy and stability and be comfortable for use in kids. The clinical data generated in our Phase III study will determine what barriers we must overcome and how challenging these barriers may be. Drug development is not easy, and there are always barriers. Still, we believe that we have developed and optimized a formulation that should maximize the efficacy of low-dose atropine and result in a product that patients and health care providers will seek. We have said from the beginning that "formulation matters," and we believe that our specifically engineered formulation will result in a favorable safety and efficacy profile, leading to strong compliance that all stakeholders will recognize.
Dr. Akerman: What commercial partnerships has Sydnexis established to date? Does Sydnexis expect to establish additional commercial partnerships in the future? 
Dr. Johnson: We are currently partnered with Santen Pharmaceuticals in the EMEA region (Europe, Middle East, and Africa). Santen has an exceptional track record in Europe, and we are excited that they will be drawing upon their regulatory and commercial experience to bring this vital product to the diverse European market. 
We do not plan to partner in the U.S. and are in the process of building our commercial organization. We have been developing this product for a long time and have received incredible feedback from health care providers about our formulation and the robustness of our pivotal Phase III clinical study. It is hard to express how excited we are about launching this product in the U.S.
Dr. Akerman: If approved, how do you envision SYD-101 to fit into U.S. eye care professionals' toolbox for treating juvenile-onset myopia?
Dr. Ostrow: First, we believe that SYD-101 will be the best-in-class atropine product from the perspectives of performance, comfort, and ease of use. If we achieve our target product profile, SYD-101 will likely be a first-line therapy. We hope to be able to market both 0.01% and 0.03% dosages, but that will depend on our data and ultimately will be up to the FDA. Newer studies have suggested that higher dosing may be more useful in certain subsets of patients. Because our formulation is specifically designed for comfort and absorption, we are hopeful that our stronger dose (0.03%) will also be efficacious in faster progressing children. Because our product is near physiologic pH, we expect the bioavailability to be higher than in compounded products or other formulations used in some prior trials. Our product is supplied as a preserved, multi-dose dropper bottle with enough drug for a one-month supply.
Techniques and protocols for myopia management will evolve over time. Low-dose atropine will be the only pharmacologic drug available to practitioners for several years. There are novel spectacle lenses, soft contact lenses, hard contact lenses, and other devices under development that will continue to play a significant role in treating myopia. In several published studies where low-dose atropine is combined with other types of myopia control, the combination often outperforms either treatment alone, and this synergy will likely lead to many different combination therapies in the future. Low-dose atropine will likely be a first-line therapy for most eye care providers as it has very few contraindications and can be used in a wide range of children. 
We envision the myopia control toolbox to include multiple treatment paradigms where, depending on patient presentation, eye care providers can choose to use low-dose atropine, spectacles, contact lenses, or other devices in combination or alone and adjust as indicated to control myopia progression. It is likely that many patients will be on combination therapy that includes an approved, efficacious eye drop that can be used in combination with spectacle or contact lenses offering the best potential care for our patients. The more rigorously study tested, FDA-approved options in the toolbox, the better.