sponsored content
August 15, 2023
By Kristen Dalli, Managing Editor, Review of Myopia Management
'Pediatric ophthalmologists are the tip of the spear. We are the ones who see the kids when they're young, and we ultimately have the best chance at having the most impact.'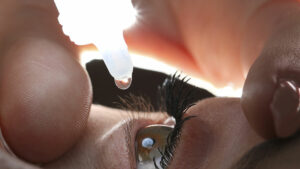 At this year's American Association for Pediatric Ophthalmology Annual Meeting, myopia emerged as one of the hot topics. Three leaders in the field – K. David Epley, MD, Robert Clark, MD, and Rupa Wong, MD — shared the current and emerging myopia treatment options, results from Vyluma's CHAMP (Childhood Atropine for Myopia Progression) Study, and ways to incorporate myopia management into your practice. 
Current And Emerging Myopia Treatment Options
Dr. Epley started the presentation by discussing the current and emerging myopia treatment options. He shared the several ways that practitioners can work to slow the progression of myopia in patients — orthokeratology, peripheral defocus soft contact lenses, extended depth of focus contact lenses, bifocals, myopia spectacle lenses, behavioral therapies, combination therapies, and the primary focus of this discussion, low-dose atropine. He explained that research studies, such as the LAMP and ATOM studies, have demonstrated the success of utilizing low-dose atropine for slowing myopia progression. 
"These findings have led multiple U.S. and international organizations1 to recommend that we start myopia management and include low-dose atropine," Dr. Epley said. "There are some important considerations when prescribing low-dose atropine to treat myopia because it is not FDA approved. It needs to be sourced from a compounding pharmacy, and you need to talk to your compounding pharmacy about how they are formulating the drug and storing it. 
"Low-dose atropine can be difficult to formulate, and many compounding pharmacies will include additives such as benzalkonium chloride, which can affect a patient's ocular surface for their whole lifetime — especially if they use the drug chronically for several years," Dr. Epley continued. "I encourage all eye care professionals to talk with their compounding pharmacies and use preservative-free solutions." 
Results From the CHAMP Study
Dr. Clark was the next to present, and his discussion started by explaining the importance of pediatric ophthalmologists getting this information on low-dose atropine, bringing it back to their practices, and sharing it with patients and their parents. 
"Pediatric ophthalmologists are the tip of the spear," Dr. Clark said. "We are the ones who see the kids when they're young, and we ultimately have the best chance at having the most impact." 
Dr. Clark then dove into the results from Vyluma's CHAMP Study, which focused on NVK002, low-dose atropine studied in two concentrations. Building on Dr. Epley's presentation, he explained that NVK002 is preservative free, with no additives, and the formulation is shelf-stable for two years, eliminating the need for refrigeration. 
"The goal of the CHAMP Study was to address a major unmet need for a government-approved pharmacologic treatment agent for myopia progression, with the assurance of safety, sterility, and stability that's typically not found with compounded low-dose atropine," Dr. Clark said. 
He then explained that there were three groups in the study — the 0.01% NVK002 group, the 0.02% NVK002 group, and the placebo group. Children between the ages of 3 and 17 who had never received myopia control treatment were eligible to participate in the study, and children between the ages of 6 and 10 — the sweet spot for starting myopia treatment — comprised the majority of study participants. 
There were three primary measures to determine the efficacy of NVK002: 
Biometric:

the mean change from baseline in axial length at 36 months

Refractive:

the mean change from baseline in refractive error at 36 months

Responder Analysis:

the proportion of subjects who progress < 0.50D over 36 months 
Dr. Clark shared that the headline result from the CHAMP Study is that NVK002 in the 0.01% concentration achieved clinical and statistical significance across every key endpoint; however, the 0.02% was not as effective across all endpoints. The results showed that patients receiving NVK002 at 0.01% had significantly less axial length progression every year of the study. Similarly, refractive error slowed among the patients in this group, with the strongest results coming in years two and three of the study. At the end of the three years, 30% of the participants in the 0.01% group did not progress more than 0.50D; 40% of participants in this group did not progress more than 0.75D; and 50% of participants did not progress more than 1.00D after three years of treatment. 
"Given what we know about how each diopter of myopia contributes to the increased risk of eye health problems, this is an impressive outcome," Dr. Clark said. "The treatment had the best effect on children with lower levels of myopia when the study began, which highlights the need to start treatment at lower levels of myopia at younger ages. Given the safety profile, and the low dose needed to treat, NVK002 has demonstrated an excellent risk-benefit ratio in the CHAMP study, making it an ideal formulation to initiate myopia treatment in young children with low levels of myopia." 
How to Incorporate Myopia Management into Your Practice
Dr. Rupa Wong was the last to present, and she started her discussion by polling the audience with three important questions. The first was: Who is currently prescribing myopia management for patients? Of those in attendance, 87% said they were, while 13% said they were not. 
The second question to the audience was: Who is concerned about myopia in their own children? Seventy-five percent of attendees were worried about their children's myopia, while 25% were not. 
The final poll was: What is the first line of treatment you employ for those treating myopia in your own kids? Low-dose atropine emerged as the clear winner, with 81% of attendees utilizing this treatment first. Single-vision spectacle lenses came in second, with 12% of attendees going with this treatment option, while 5% went with vision therapy and 2% with multifocal contact lenses. None of the attendees opted for OrthoK. 
Dr. Wong then explained that there are many things to consider when implementing myopia management: what treatment options to offer, how to educate parents, how to train staff, how to update your practice website, how to market the services on social media, and adjusting your schedule to fit the chair time demands of myopia management. Dr. Wong shared that myopia management does not need to be a burden with chair time, and there are ways to educate parents and start preparing them before they even come into the office. 
"I have a quiz on my website that stratifies patients based on their myopia risk," Dr. Wong said. "When they get their results, they get a summary of their mild, moderate, or severe myopia risk. Before they even walk in the door, they have a lot of information about myopia. Then, when my receptionists take these phone calls, they can direct parents to the website to start reading articles and diving deeper into myopia management."
At the end of the session, Dr. Wong shared how she can get parents on board with myopia management, and much of this comes from her own experience as a parent of children utilizing low-dose atropine. She explained that she started her son on low-dose atropine two years ago when his refractive error was -0.25D and his axial length was 25 mm. After two years of treatment, his refractive error and axial length have remained stable. Similarly, after measuring her 9-year-old daughter's axial length, she learned that low-dose atropine would lead to her becoming emmetropic. Dr. Wong explained that compliance had been one of the biggest struggles with her daughter; she would often forget to put the drops in when they were stored in the refrigerator, and after moving them to her nightstand, it is unclear what concentration of atropine she is receiving. 
"What should we expect from low-dose atropine for our patients?" Dr. Wong asked. "We would like for it to be FDA approved, so it is manufactured to the strictest standards, and there's consistency, high quality, sterility, and potency. We would also like the formulation only to contain trusted ingredients and that there are always ongoing evaluations and expectations. We want it to be preservative free, finalized at a comfortable pH, easy to prescribe, and readily available at local pharmacies. To round things out, low-dose atropine should be covered by insurance, and it should be able to be stored at room temperature for up to two years." 
Dr. Wong shared her philosophy on myopia management: "I offer myopia management to every patient who is myopic or pre-myopic. I discuss the long-term ocular health concerns of high myopia, the side effects, the pros and cons, and the various treatment options. 
"I emphasize with parents that anything with myopia cannot be reversed but can be prevented. Early treatment is imperative." 
References
1 Gifford, K. L., Richdale, K., Kang, P., Aller, T. A., Lam, C. S., Liu, Y. M., Michaud, L., Mulder, J., Orr, J. B., Rose, K. A., Saunders, K. J., Seidel, D., Tideman, J. W., & Sankaridurg, P. (2019). IMI – Clinical Management Guidelines Report. Investigative Opthalmology & Visual Science, 60(3). https://doi.org/10.1167/iovs.18-25977