September 20, 2023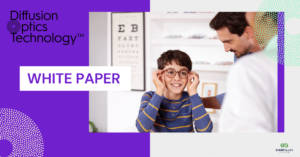 LOS ALTOS, Calif. — SightGlass Vision's Diffusion Optics Technology (DOT) spectacle lenses are the subject of a recently released white paper, the first on the novel technology. The lenses use thousands of light-scattering elements called dots, designed to mimic more natural contrast on the retina — a unique mechanism of action to slow myopia progression in children.
The in-depth paper explains the relationship between artificially high contrast signals at the retina and myopia progression. This groundbreaking research led to the development of DOT to manage such contrast, now clinically proven via the pivotal CYPRESS study to slow myopia progression in children from age 6. Its efficacy is particularly of note for the youngest patients, who would typically experience the fastest progression.
"Harnessing the power of contrast management is a revolutionary approach to controlling myopia. Our DOT spectacle lenses are now paving a new path to reducing myopia progression from an early age. This white paper goes deeper into the science to explain the mechanisms of action, helping eye care professionals better understand the innovation," said SightGlass Vision Vice President of Clinical, Medical & Professional Affairs Marcella McParland.
"As a more recent entrant into the myopia management field, our Diffusion Optics Technology paper will help disseminate the substantial science behind contrast management and its application. DOT spectacle lenses present a compelling alternative to existing solutions for slowing myopia's progression in children," added Andrew Sedgwick, SightGlass Vision's CEO.
Over the last two years, SightGlass Vision's patent-protected technology with clinically proven efficacy1,2,3,4 made its commercial debut in several markets, including China, the Netherlands, and Israel, as well as through preliminary market trials in other countries. The company operates as a joint venture of CooperCompanies and EssilorLuxottica.
The white paper can be read online or downloaded as a PDF at https://www.sightglassvision.com/resources-for-eye-care-professionals.
References
1 Chalberg T., et al. Control of Myopia Using Diffusion Optics Spectacle Lenses: Efficacy and Safety Study (CYPRESS) 42-month results. ARVO 2023 Annual Meeting presentation. 27 April 2023.
2 Rappon J., et al. Control of myopia using Diffusion Optics Technology spectacle lenses: 12-month results of a randomised controlled, efficacy and safety study (CYPRESS). British Journal of Ophthalmology Published Online First: 01 September 2022. DOI: 10.1136/bjo-2021-321005
3 Rappon J., et al. Two-year effectiveness of a novel myopia management spectacle lens with full-time WEARERS. Invest. Ophthalmol. Vis. Sci. 2022;63(7):408.
4 Laughton, D et al. Safety and Efficacy of a Novel Spectacle Lens for Myopia Control Over Three Years. 2022 American Academy of Optometry annual meeting. 27 Oct 2022.