September 15, 2023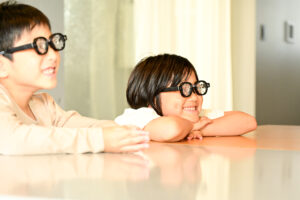 SEATTLE — Kubota Vision and China Medical University Hsinchu Hospital have entered into a collaborative research agreement that will evaluate the efficacy of Kubota Glass. The prospective study, which will be led by Dr. Ying-Shan Chen, will test the Kubota Glass technology in myopic children as compared with a 0.01% low-dose atropine control group, including an arm that will evaluate the potential for a synergistic effect with combination therapy.
Dr. Chen is a globally renowned leader in myopia research and treatment, serving as the Chief of Ophthalmology at China Medical University Hsinchu Hospital. Dr. Chen said, "Progressive myopia poses a heavy burden to individuals and society as a whole. I am always seeking new and effective ways to treat progressive myopic patients, so I am excited to work with Kubota Vision to evaluate Kubota Glass technology."
"As recent studies have shown limited effectiveness in some patient populations with 0.01% atropine monotherapy,1,2 the use of combination treatments for slowing the progression of myopia has been suggested as a next step for evaluating optical strategies such specialized glasses,3" said Ryo Kubota, MD, PhD, Chairman, President, and CEO of Kubota Vision Inc. "We are excited to explore this important area with Dr. Chen, who is one of the foremost experts in myopia treatment, as we continue to work toward our goal of revolutionizing myopia therapy around the world."
Kubota Glass technology works to aid vision in myopia by projecting specially focused images generated using micro-LEDS in the peripheral visual field. Kubota Vision has been conducting and publishing research evaluating the device for the management of myopia. Kubota Glasses technology leverages nanotechnology in its electronic glasses-based illumination device and seeks to help manage myopia by providing specially focused illumination while maintaining high-quality central vision.
References
1 Zadnik K, Schulman E, Flitcroft I, et al. Efficacy and Safety of 0.01% and 0.02% Atropine for the Treatment of Pediatric Myopia Progression Over 3 Years: A Randomized Clinical Trial. JAMA Ophthalmol. 2023 Jun 1:e232097. https://www.ncbi.nlm.nih.gov/pmc/articles/PMC10236322/
2 Repka MX, Weise KK, Chandler DL, et al. Low-Dose 0.01% Atropine Eye Drops vs Placebo for Myopia Control: A Randomized Clinical Trial . JAMA Ophthalmol. Published online July 13, 2023. https://jamanetwork.com/journals/jamaophthalmology/articleabstract/2807117
3 https://www.nih.gov/news-events/news-releases/low-dose-atropine-eyedrops-no-better-placebo-slowing-myopia-progression#