June 6, 2023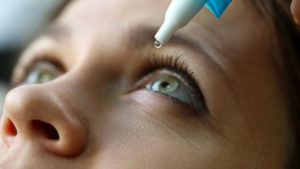 BRIDGEWATER, N.J. — The U.S. Food and Drug Administration (FDA) has accepted Vyluma's new drug application (NDA) for its NVK002 formula (low-dose atropine 0.01%) as a potential treatment for myopia.
NVK002 is a  proprietary, investigational, preservative-free eye drop administered nightly and intended for patients  ages 3 to 17. A Prescription Drug User Fee Act (PDUFA) goal date of January 31, 2024, has been assigned by FDA.  
"FDA acceptance of our NDA is a major milestone for Vyluma and brings us one step closer to advancing  NVK002 as a new, first-in-class treatment option for children with myopia," stated Founder & Chairman, Navneet Puri PhD. "NVK002 has been thoroughly tested clinically and adheres to the high-quality  standards required of a pharmaceutically manufactured product. We look forward to continuing to  collaborate with FDA on the review of this important new treatment." 
Vyluma's NDA is supported by positive results from its landmark, three-year, placebo-controlled international Phase III CHAMP (Childhood Atropine for Myopia Progression) clinical study, evaluating the  safety and efficacy of NVK002 in nearly 600 children. NVK002 at a dose of 0.01% achieved statistically significant and clinically meaningful differences from placebo at month 36 in the key outcome measures of responder analysis, mean change from baseline in Spherical Equivalent Refraction (SER), and mean change from baseline in axial length. NVK002 demonstrated strong safety and tolerability when  compared to placebo with no serious ocular adverse events reported.