June 7, 2023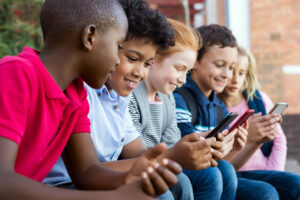 CUPERTINO, Calif. — At Apple's Worldwide Developers Conference, the company announced that it will be incorporating new visual health features into its Health app with the launch of its iOS17 software update this fall, with a specific emphasis placed on myopia. The new software update will contain two important myopia-related features: tracking outdoor time and measuring the distance that iPhone or iPad users are holding their devices from their faces.
For eye care professionals, outdoor time and near work are two common lifestyle adjustments often discussed with parents of myopic or pre-myopic children. Now, these options will be available right from their phones.
With watchOS 10 (the software update to come this fall for Apple Watches), Apple Watch introduces the ability to measure time spent in daylight using the ambient light sensor. Users can view the amount of time spent in daylight detected by their Apple Watch in the Health app in iOS 17 and iPadOS 17. Children who do not have their own iPhone can use Family Setup to pair their Apple Watch to their parent's iPhone, giving parents visibility into the amount of time their kids are spending in daylight with Health Sharing.
Additionally, the new Screen Distance feature uses the same TrueDepth camera that powers Face ID on iPhone and iPad to encourage users to move their device farther away after holding it closer than 12 inches for an extended period of time. Screen Distance can remind younger users to engage in healthy viewing habits that can lower their risk of myopia, and it gives adult users the opportunity to reduce digital eyestrain.
"Our goal is to empower people to take charge of their own health journey. With these innovative new features, we're expanding the comprehensive range of health and wellness tools that we offer our users across iPhone, iPad, and Apple Watch," said Sumbul Desai, MD, Apple's vice president of Health. "Mental health and vision health are important, but often overlooked, and we're excited to introduce features that offer valuable new insights to provide users with an even better understanding of their health. These insights help support users in their daily decisions and offer more informed conversations with their doctors."
For more information on Apple's efforts to improve children's visual health, click here.