May 12, 2021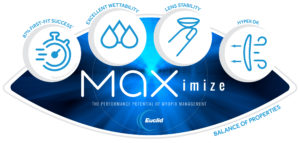 STERLING, Va. — Adding onto a suite of orthokeratology and myopia management solutions, Euclid Systems Corporation announced the Euclid MAX OrthoK lenses.
"Euclid MAX is the next generation of OrthoK," said Euclid Systems CEO Joseph Boorady. "Building on Euclid's proprietary lens designs, Euclid MAX features an innovative material with a Hyper Dk of 180, the highest of any U.S. overnight OrthoK brand, without the compromise of lens stability. This is especially important with young healthy eyes in the closed eye environment. We are very proud and excited to introduce this combination of outstanding material characteristics and proven lens designs, which will help more patients successfully manage their myopia."
Following approval from the United States Food and Drug Administration (FDA), Euclid gave early access to Euclid MAX to a limited group of optometrists spread across the country over the last few months to get real-world clinical experience on patients' eyes. In a survey of this early access group who had experience fitting the lens, 100% of the respondents replied they would consider recommending Euclid MAX to their next patient.1
"Euclid Max provides incredible oxygen permeability, lens stability, and wettability, which adds a layer of comfort, safety, and satisfaction to my OrthoK practice," said David Kading, OD, FAAO, of Specialty Eyecare Group and an early access participant.
Euclid will also be hosting an OrthoK Roundtable on May 19 and 20: "Shifting the Paradigm: Maximize Performance with the Next Generation of Ortho-K Lenses,"  which will explore the latest innovations in OrthoK technology from leaders in the field. Click here to learn more and register.
To learn more about Euclid MAX , visit http://www2.euclidsys.com/euclid-max-next-generation-of-ortho-k-a.
References
1 Data on file. Euclid Systems Corporation.