May 5, 2021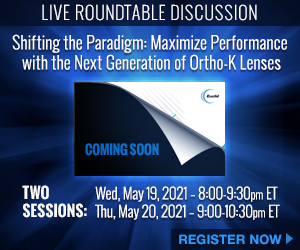 To view the roundtable after May 19 and 20, click here.
Euclid will host a virtual orthokeratology roundtable on May 19 and 20. "Shifting the Paradigm: Maximize Performance with the Next Generation of Ortho-K Lenses" will discuss the most recent innovations in OrthoK and myopia management.
Attendees will learn about the latest materials being used in OrthoK and what impact this can have on the health and safety of young wearers. The discussion will also touch on how ECPs can utilize OrthoK to ensure their patients are getting efficient oxygen flow, form durability, and wettability.
Panelists will also discuss how the right OrthoK designs combined with exam data can help ECPs achieve a high first fit success rate. In addition, participants will gain clarity on the confusion regarding optic zones versus treatment zone terminology, when and how to be more aggressive in myopia management treatment, strategies for altering the "Jessen factor," and central sagittal depth.
Representatives from Euclid will also share the company's latest efforts to advance both the field of myopia management and the future of OrthoK.
The schedule and panelists are as follows:
Wednesday, May 19 – 8:00-9:30pm EDT
Barry Eiden, OD, FAAO
Thomas Finley, OD, FAAO
Trevor J. Fosso, OD, FAAO
Kate A. McClure, OD, MS, FAAO
Thursday, May 20 – 9:00-10:30pm EDT
David Kading, OD, FAAO, FCLSA
Kevin Chan, OD, MS, FAAO
Susan Resnick, OD, FAAO
Thanh Mai, OD, FSLS
To learn more and to register, click
here
.