September 21, 2021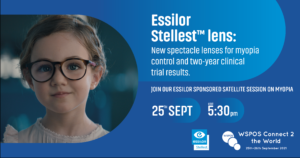 CHARENTON-LE-PONT, France — Essilor is slated to present the results from its two-year clinical trial on Stellest lenses at the upcoming World Society of Paediatric Ophthalmology and Strabismus (WSPOS) "Connect 2 the World" Virtual Congress.
The randomized three-year clinical trial started in July 2018 in the Wenzhou Medical University – Essilor International Research Center (WEIRC ) in China on 167 myopic schoolchildren aged 8–13 years, who received three types of spectacle lenses: lenses with highly aspherical lenslets (HAL), lenses with slightly aspherical lenslets (SAL), and single-vision lenses. The clinical trial showed that higher lenslet asphericity led to higher myopia control efficacy, so HAL lenses were more effective at slowing down myopia progression than SAL lenses, when compared to single-vision lenses. Essilor Stellest lenses have the same optical design as the HAL lenses.
The study also demonstrated that the wearing time significantly influenced the treatment outcome. After two years, children wearing Essilor Stellest lenses saved 0.99D of myopia degree on average (67% slow-down in myopia progression on average), compared to single vision lenses, when worn 12 hours or more per day, every day.1
"We are proud to collaborate with WSPOS for the second time and share our expertise and innovations with eye care practitioners at this important forum," said Grita Loebsack, Group Chief Marketing Officer, Essilor International. "This is part of our ongoing efforts to build partnerships to educate and equip eye care professionals on myopia globally. After its successful release in China, Russia, and Singapore in 2020, we have launched the Essilor Stellest lens in France and Italy this year. We will continue to expand our myopia footprint to protect our children's vision for the future."
During the virtual session, a review of the different generations of myopia control spectacle lenses, the design of the Essilor Stellest lenses, and the two-year clinical trial results will be presented by Damien Paillé, PhD, Guillaume Giraudet, PhD, and Björn Drobe, PhD, respectively, from Essilor International's research and development team. The session will be introduced by Ken Nischal, MD, WSPOS co-founder, and Olga Prenat, Vice President, Global Education and Professional Relations, Essilor International.
"It has been well-established that early intervention is critical to preventing high myopia from developing," said Norbert Gorny, COO, Essilor International. "Given the increased risk of high myopia with myopia onset at a younger age, the Essilor Stellest lens can help in effectively slowing down myopia progression even during early childhood, reducing myopia-related risks later in life. So we truly hope that it is the catalyst for increased myopia management in practices globally. With this lens, we continue to lead the way in developing a safe, convenient and effective way to manage the increasing myopia problem."
"Myopia management strategies are extremely important to embrace so that we can reduce the burden of related vision-threatening complications that may become apparent at the end of the second decade of life onwards," said Dr. Nischal. "Last year, we were pleased to see Essilor unveil the first-year results of their Stellest lens, and it's wonderful to have them join us again in advancing education on this critical topic and sharing their knowledge and insights of clinical interventions to manage myopia. I look forward to an engaging session and presentation of the two-year results this year."
Essilior's session at the WSPOS Virtual Congress is scheduled for September 25 at 11:30 a.m. ET. To see the full schedule for the Virtual Congress, including other myopia-related sessions, click here.
References 
1 Compared to single vision lenses, when worn 12 hours a day. Two-year prospective, controlled, randomized, double-masked clinical trial results on 54 myopic children wearing Stellest lenses compared to 50 myopic children wearing single vision lenses. Efficacy results based on 32 children who declared wearing Stellest lenses at least 12 hours per day every day. Bao J. et al. (2021). Myopia control with spectacle lenses with aspherical lenslets: a 2-year randomized clinical trial. Invest. Ophthalmol. Vis. Sci.; 62(8):2888