June 15, 2021
By Glenda Aleman-Moheeputh, OD
It's vital for everyone who comes into the office to understand why myopia management is essential and why the treatments are necessary. Once you effectively do that, the rest will fall into place.
When I started my optometric practice in Walmart, I was determined to offer myopia management treatments to my patients. By providing comprehensive education to my patients, their parents, and my staff, there has been no lack of myopia management candidates in my practice.
However, establishing a myopia management practice in a retail setting comes with some challenges. One of the biggest hurdles was not pushback from parents due to the higher cost of treatment, but instead, it was being taken as a serious expert in my local optometric community.
Marketing Myopia Management in Corporate Retail
Marketing has been an essential part of growing my practice. Reaching new patients has dramatically changed in the last two decades due to the increasing popularity of multimedia devices and the internet. Digital marketing campaigns have replaced TV and radio ads and are among the most popular communications tools used by most businesses.
However, marketing a myopia management practice requires targeting a specific audience. Furthermore, being in a corporate retail setting requires a different approach from the conventional marketing strategies. Nonetheless, a marketing strategy that overlaps, whether one practices in a retail or private environment, is word of mouth. Most eye care professionals agree that word of mouth is still highly effective when marketing myopia management treatments.
First: Create a Myopia Management Culture with Office Staff
Your office staff is the first point of contact for patients. A significant percentage of my myopia management patients are from within my practice. Patient education begins at the front desk and continues during the patient's workup. By the time they see me, they have already read and heard about myopia management, which is why it is essential to educate staff on the specialty services you offer.
I developed materials myself that I've given to my staff to pass along to patients. These educational materials feature a brief summary of each treatment we have available — orthokeratology, soft multifocal contact lenses, and low-dose topical atropine — as well as what the treatment entails, what we use for the treatment, and the mechanism of how it works. That's something that either staff members provide to patients after coming in, or sometimes we offer it to them at the end of the exam or following the pre-test. If we notice something in the pre-test that indicates a child is potentially going to need myopia management treatments, we can give them that brochure before they come in for the complete exam with me.
We also have a table mat that we keep at the front of the office that explains the same information about the available treatment modalities. It's a summary for patients about the treatments with language that's easy to understand, and it's presented in an easy way for my staff to go through and explain before I even meet with patients.
Some other well-known resources I utilize are educational videos from the American Academy of Orthokeratology and Myopia Control (AAOMC) and the Myopia Calculator from the Brien Holden Vision Institute. Both of these are great tools available to optometrists, and we keep them pre-loaded into every computer in the office so that they are easily accessible and we can share them with patients and their parents. Parents tend to have questions every step of the way, so if they're in the waiting room, my staff can easily pop open these resources and explain what myopia progression will look like, which is helpful for parents.
Once a patient starts treatment, they leave with even more resources: a welcome letter, an explanation of the treatment modality that we chose, and visual hygiene habits that I recommend they engage in along with their treatment. Education is one of the most powerful tools we have in myopia management. If you take the time to educate your staff and parents of myopic children, it creates a mutual understanding and respect, and some of the cost-related obstacles that typically come up in a retail setting such as Walmart aren't at the forefront. It's vital for everyone who comes into the office to understand why myopia management is essential and why the treatments are necessary. Once you effectively do that, the rest will fall into place.
Second: Word of Mouth
Word of mouth is the number one source of referrals in my practice. Your OrthoK patients are the best advocates for your practice. This also works great if you've fit a staff member with OrthoK. They are the best promoters of the procedure because they experience the benefits of OrthoK firsthand.
Since I sublease space in a Walmart optical center, it can be challenging to market my services, especially for something so specialized. If I have one happy patient, that's the best advertisement. Most people have never heard of these treatments, so once somebody comes in and starts treatment, they go and tell their cousin or their friend or their neighbor. This happens most often with kids because they're so excited that they can go to school and not wear glasses or contacts during the day. When their friends ask them why they don't have glasses anymore, they get to explain OrthoK, and that leads back to me. Kids typically don't understand what we're doing or why we're doing it, but they find the process fascinating, and they can pass that along to their friends.
Third: Network with Local Optometrists
Collaborative patient care is becoming more common among optometrists and ophthalmologists. Referrals from other eye care professionals are my second most significant source of patient referrals. Getting referrals from other optometrists was not easy to accomplish. Still, thanks to The Chiasm, a referral platform for eye care providers, it has made it more accessible for local optometrists to refer patients to me.
It is important to be involved in your local optometric society and attend local events. Being a lead ambassador for Optometry Divas has been a great way to expand my network; as a lead ambassador, I get to organize CE events and lecture about myopia management to local doctors. I also serve as president of the AAOMC, which has allowed me to establish myself as a myopia management leader in my optometric community.
Last: Don't Neglect Online Channels
Keeping my Google business listing up to date and being a member of the AAOMC are excellent referral sources. Once you upgrade to a standard membership, you have a listing on the AAOMC website. Finally, posting regularly on social media platforms, such as LinkedIn and Facebook, keeps your office top of mind for patients and other optometrists. The more that people see you, the more they remember you.
As someone who struggles with social media, I hired a local Miami-based company to run my platforms for me, and it's been fantastic. We meet once a week to talk about content, and they make and schedule all of my posts. My goal in posting on social media is to spread awareness and do that in a way that's interesting, fun, and relevant to my target audience. If too much is put out at once, it can get overwhelming, and then your posts can miss the attention that they need and deserve. I like to mix different kinds of posts on social media, between educational content, patients' success stories, and pictures of our office. I've found that posts about patients' success stories tend to be the most successful on social media, followed by posts about our office.
Social media is also a great way to get referrals from other eye care professionals who aren't offering myopia management services but who take the time to educate their patients and refer them to a myopia management expert.
Patients, Parents, and Professionals All Manage Myopia Together
Childhood myopia continues to increase at an alarming rate. As optometrists, we are at the forefront of this epidemic, and we have the opportunity and responsibility to help our young myopic patients. We can accomplish it by implementing myopia management in our practices and educating patients and parents.
We also need to work together as eye care professionals with leading companies and organizations to spread awareness about myopia management. The work that the Global Myopia Awareness Coalition (GMAC) is doing to get the information out to consumers and other critical stakeholders is essential, and we all need to be on the same page to highlight the long-term risks of myopia and the ways that these treatments can benefit children. Let's join the fight against myopia and make our children's future brighter.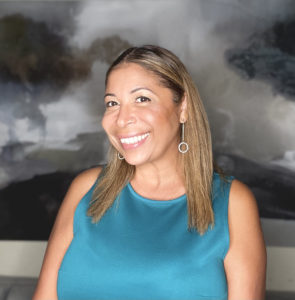 Glenda Aleman-Moheeputh, OD, graduated from Nova Southeastern University with a Bachelor of Science degree in Vision Science, and she received her Doctor of Optometry degree from NSU's College of Optometry. She currently serves as the President of the American Academy of Myopia Control and Orthokeratology (AAOMC) South Florida Chapter. She is also the lead ambassador for the Optometry Divas Miami Chapter and acts on the Chair Advisory committee of the Broward College Opticianry program.