August 8, 2023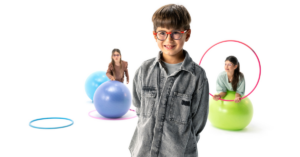 OBERKOCHEN, Germany — ZEISS MyoCare spectacle lenses for myopia management have sold one million pairs in China, just 14 months since the product officially launched. 
With MyoCare spectacles, ZEISS combines more than ten years of extensive experience with progressive and high myopia in Asia with scientifically based findings. The company is working to offer an effective, specific myopia management solution that is now also available in Europe and Canada. 
Together with a leading myopia management institute, Wenzhou Medical University Eye Hospital WMU, China, ZEISS tested more than a dozen different spectacle design prototypes with varying combinations of lens design parameters in a pre-clinical study. The company first tested the subjective wearability and visual performance with myopic test wearers. The most promising prototypes were then handed out to a small cohort of Chinese children to test the lens prototypes in a real-life wearer trial.
The children wore the test lenses for several days in their daily life, and wearability and visual acuity were assessed to evaluate the subjective visual performance of the lens designs. Based on this evaluation, experts selected the prototypes for the clinical trial that had the optimal combination of vision correction, wearability, adaptation, the highest ratings of satisfaction, and the most promising clinical efficacy. The company landed on two lens design variants, ZEISS MyoCare and ZEISS MyoCare S, representing a harder and softer version of the ZEISS MyoCare lens design, which had received good evaluations in pre-clinical testing and were chosen for further safety and efficacy assessment in the clinical trials.
The MyoCare design, as the most promising of the tested designs, is patented as "Cylindrical Annular Refractive Elements," or C.A.R.E. Technology. To avoid hyperopic defocus for all directions of gaze, ZEISS MyoCare uses a second, innovative technology: ClearFocus optimizes the free-form back of the lens point by point. 
ZEISS MyoCare is currently being tested together with various clinical partners in randomized clinical studies involving more than 1,000 children. The first 12-month interim results of the long-term study with Wenzhou Medical University Eye Hospital demonstrate evidence of efficacy through an absolute reduction in myopia progression in line with study expectations. 
ZEISS MyoCare lenses are recommended for children younger than 10 years of age, and ZEISS MyoCare S lenses are recommended for children 10 years and older. ZEISS MyoCare and MyoCare S lenses are the first age-related myopia management lens solution available with ZEISS Premium coatings and ZEISS UVProtect Technology for full UV protection.* 
*Not all products are available in all markets. ZEISS MyoCare and MyoCare S are not yet available in the United States.