August 7, 2023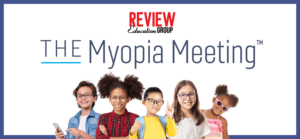 PARSIPPANY, N.J. — After landing in Chicago and Vancouver earlier this year, THE Myopia Meeting is coming to Parsippany, New Jersey, on Sunday, September 24, 2023, and registration is now open.
This live, in-person meeting will feature four hours of COPE-approved CE presented by world-renowned experts in the field. Plus, periodic clinical reviews will cover the latest diagnostic and monitoring technologies along with the newest treatments to slow the progression of myopia.
Also, break times, and the free lunch will provide peer-to-peer networking opportunities among eye care professionals who are either starting their myopia management practice or growing an existing one.
The speakers and sessions include:
Axial Length: You Don't Know What You're Missing (Kevin Chan, OD, MS, FAAO)
Small Eyes with Big Mission — Strategies for Making Myopia Management Your Practice Builder (Kevin Chan, OD, MS, FAAO)
The Answer is Yes: Communication Skills That Boost Patient Acceptance (Steve Vargo, OD, MBA)
Myopia Management from A to Z (Dwight Akerman, OD, MBA, FAAO, FBCLA, FIACLE)
To learn more about THE Myopia Meeting in Parsippany, and to register for the event, click here.