November 21, 2023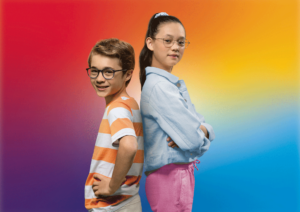 ISRAEL — Shamir Optical Industry has announced Shamir Optimee, a new myopia management spectacle lens.
Recognizing the huge and growing need for effective myopia management, Shamir prioritized it as the first development project in its new Shamir Child-Care product portfolio. The company started by looking at children holistically to understand their needs and experiences and how they feel about wearing glasses in various aspects of their daily lives — learning, playing, socializing, relaxing, and using digital devices, a major factor for today's "digital generation." The Shamir team joined forces with field experts to review the extensive research done into the psychological and ergonomic aspects of child development, vision correction, and myopia management.
Shamir Optimee integrates Shamir Focusflow next-generation defocus technology, which provides a clear central vertical zone with the child's prescription. Called the Central Vertical Canal, this clear area allows flexible eye movement so children can focus on near-vision activities at all distances without over-flexing their necks.
Click to enlarge
This unique non-concentric lens design results in significantly thinner edges than traditional single-vision lenses. It dramatically reduces the "cut-in" effect — the distorted face contour seen when looking at the child or a selfie, which occurs with standard single-vision lenses. Manufactured using FreeForm technology, Shamir Optimee is transparent. Together, these innovations enable children to look and feel more natural. Made with Shamir Metaform, the lenses are up to 18 times stronger than the FDA standard requirement,1 enabling children to safely wear their glasses even during rough outdoor play.  
A clinical trial is running in Israel, led by Prof. Yair Morad, comparing the progression of myopia and axial elongation with Shamir Optimee versus single-vision lenses in 126 children aged 6-13. The first-year major result shows that the axial elongation in children below 10 was slowed by 43% on average. The same trial showed that one of three young children experienced natural eye growth, as if non-myopic. When both parents were myopic, the Rx progression was 45% slower on average. As for compliance, children wore Shamir Optimee glasses for an average of 14 hours a day, just like single-vision lenses, indicating they felt comfortable wearing the lenses. The trial results were published in the American Journal of Ophthalmology.2 
Shamir Optimee myopia management lenses are intended for children, following the recommendation of an eye care professional, according to the specific country's rules. They are available in a wide variety of indexes between 1.50 and 1.74, Rx range +0.50D to -10.00D. They can be clear or Transitions (green and grey). 
Mr. Yagen Moshe, Shamir's CEO, said: "The holistic approach behind Shamir Optimee reflects the wide view that we take with the goal of improving the quality of life of our customers, kids, and adults. Beyond considering vision correction needs, we look through consumers' eyes at how they experience their daily activities. We also conduct extensive research and then apply the most advanced technologies to provide high-performance optical lens solutions for a variety of needs. In the case of these new lenses for children, we also took parents' needs and concerns into consideration. The launch of Shamir Optimee is an exciting step for Shamir. It continues our long legacy of developing innovative, high-performance lenses and establishes a new child-care category range, in which we focus on safeguarding the eyesight and well-being of children, supporting their safety, comfort, confidence, and sharp vision, now and in the future." 
(Disclaimer: Optimee is not available in the United States.)
References
1 Shamir Optical Industry Ltd. Metaform lenses were tested by an independent external lab, COLTS Laboratories. The lab tested dozens of Metaform lenses, and the results show that Metaform lenses are up to 18 times stronger than the FDA standard requirement. For the full reports please contact your local Shamir team. 
2 Yuval C, Otzem C, Laura BS, Shirel R, Dana GN, Atalia W, Noam B, Nir E, Yair M. Evaluating the Effect of a Myopia  Control Spectacle Lens Among Children in Israel: 12-Month Results. Am J Ophthalmol. 2023 Sep 9;257:103-112. doi:  10.1016/j.ajo.2023.08.019. Epub ahead of print. PMID: 37690499.