March 21, 2023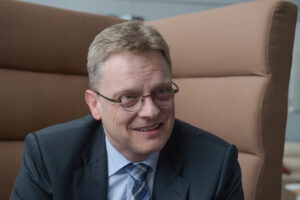 BERLIN, Germany — Professor Dr. Jens Ellrich has been named the new Chief Scientific Officer at Dopavision, a clinical-stage company pioneering the development of digitally delivered light-based therapeutics.
Dr. Ellrich brings a wealth of scientific knowledge and extensive experience in digital therapeutics, including new product development. He will spearhead Dopavision's ambitious research and development activities for the company's lead product, MyopiaX, Dopavision's leading-edge digital therapeutic for childhood myopia control. The first-in-human clinical investigation of MyopiaX is ongoing across Europe.
Jens Ellrich, MD, PhD, is an expert in translational medicine with a strong background and track record in basic and clinical neurosciences, including various eye diseases and the development of digital therapeutics. He was full professor at RWTH Aachen University and Aalborg University and has authorship on more than 85 peer-reviewed papers.
Dr. Ellrich joined the medical device industry in 2010 and served, among others, as Chief Medical Officer for the neurotechnology companies Cerbomed, Sapiens, EBS Technologies, and WISE. Besides his executive roles in the health care industry, he is an Adjunct Professor of Neuroscience at the Medical Faculty of the University of Erlangen-Nuremberg and serves on the editorial boards of the scientific journals European Journal of Pain and Bioelectronic Medicine.
"We warmly welcome Jens to our management team," said Mark Wuttke, CEO of Dopavision. "He brings a wealth of scientific knowledge and considerable experience in the development of digital therapeutics and shares our commitment to strong scientific programs. His profound skills and extensive network will be of great help to us in successfully delivering our myopia control program and further broadening our pipeline."
"I am delighted to join this great team dedicated to revolutionizing the therapeutic landscape of myopia control and beyond with disruptive digital technology," said Prof. Dr. Jens Ellrich. "I am thrilled to join Dopavision at this pivotal and exciting time to support the development of a light-based treatment for myopia."