June 1, 2021
By Dwight Akerman, OD, MBA, FAAO, FBCLA
When I speak with eye care professionals about childhood myopia, it is evident that many practice an abbreviated version of myopia management. During the fourth quarter of 2020, Review of Myopia Management and Jobson Optical Research polled nearly 300 ECPs from around the United States to learn more about their attitudes and behaviors regarding myopia management. 
Among the questions asked in this survey was, "Does your practice provide myopia management eye care treatment for patients age 18 and under?" Surprisingly, seven in 10 (70.1%) surveyed said their practices provide myopia management services, but three in 10 (29.9%) said their practices do not offer myopia care for children. A plethora of other research suggests that only a small percentage of eye care professionals actually practice full scope myopia management.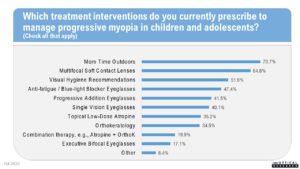 The respondents who replied, "Yes," were then asked, "Which treatment interventions do you currently prescribe to manage progressive myopia in children and adolescents?" Almost 71% said "more time outdoors," 65% said "multifocal soft lenses," and 52% said "visual hygiene recommendations." OrthoK, topical low-dose atropine, and combination therapy were far down the list. Sadly, 40% responded "single-vision eyeglasses," which do nothing to slow the progression of myopia (see Figure 1).
Clinicians should strive to deploy a comprehensive myopia management strategy that involves decision-making based on age, lifestyle, familial risk, axial length, position on the axial length growth chart, progression rate, risk of high myopia, potential side effects, and individual preferences. This personalized approach ensures optimal long-term myopia management and helps reduce the risk of visual impairment and blindness later in life.
Eye care professionals must consider a child's individual needs to prescribe comprehensive and effective myopia care. Prescribing a complete armamentarium of treatments for myopic children means practicing at the highest level and fulfilling one's duty of care.
Best professional regards,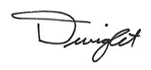 Dwight H. Akerman, OD, MBA, FAAO, FBCLA
Chief Medical Editor
dwight.akerman@gmail.com