May 17, 2021
By Joshua Foreman, PhD; Arief Tjitra Salim, BEng; Dilara Koca, MPH; and Mohamed Dirani, PhD, MBA, GAICD
In the context of the COVID-19 pandemic, which is likely to continue to require lockdowns and less face-to-face engagement for some time, more screen time is inevitable, and there is a significant need for strategies to mitigate a resultant exacerbation of the myopia crisis.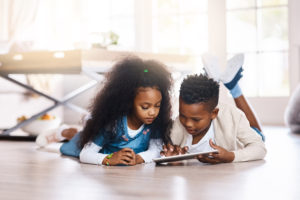 The prevalence of childhood myopia has surged in recent decades, with urban centers in East Asia such as Singapore having rates as high as 11% among preschoolers, increasing to 50% by primary school, and 75% by the end of secondary school.1,2 The prevalence of myopia is increasing elsewhere too — including in the U.S.3 — and the shifting epidemiological picture, which is characterized by a progressively younger age of onset1 and accelerated myopic progression,2,4 portends a worrying future increase in the global burden of high myopia and blindness.4-6
It has long been proposed that the myopia epidemic is being driven by childhood exposure to environmental risk factors present in increasingly urbanized societies, with excessive engagement in near visual tasks and insufficient time spent outdoors being of greatest importance.7-9 The almost universal adoption among children of digital screens, including computers, tablets, and smartphones, in recent years has resulted in even more time spent on near visual tasks, and screen time is now considered by many to be a significant modifiable risk factor for myopia.10 In fact, as many as two-thirds of surveyed pediatric ophthalmologists have reported prescribing less digital screen time for myopia control,11 and providing clinicians with a summary of the current state of the science on screen time and myopia may motivate more to include these lifestyle changes in their clinical practice.
There are plausible mechanistic reasons to implicate screen time in the etiology of myopia. Compared to conventional books, children tend to use screens at closer viewing distances to compensate for small font and screen sizes (particularly with smartphones and tablets),12,13 for longer periods of time,14,15 and from younger ages.16 These factors conspire to place significant demand on accommodation and vergence from early in children's development, likely resulting in axial elongation.13,17 Moreover, screen use usually occurs indoors where dioptric space is less uniform18 and where ambient luminosity is lower, thus impeding sunlight-induced retinal dopaminergic neurotransmission, which is an important regulator of emmetropisation.19
Limitations of Analyzing Screen Time
The extent to which these environmental and physiological aspects of screen exposure translate into effects on the epidemiology of myopia is still under investigation. A growing number of studies have demonstrated statistically significant associations between screen time and myopia-related outcomes, including prevalence,20-23 spherical equivalent (SE),24 and axial length (AL)24-26 . In contrast, other studies have found no associations.27,28 Before exploring these associations, it is important to acknowledge several critical limitations of the available evidence. First, almost all studies have quantified screen time based on parental- or self-report, which may seriously underestimate actual screen time.29 Second, many studies have also relied on self-report rather than refraction to identify cases of myopia,30-35 and the sub-optimal sensitivity and specificity of self-report for myopia (76% and 74%, respectively)36 may reduce the validity of some studies. Third, many studies have not disentangled screen time from other forms of near work, but have instead investigated all near work including screens as one variable,37-40 or have not distinguished between different types of screens such computers vs. handheld devices,41-43 which may have distinctive visual features that modulate their effect on refractive development. Finally, most research has not controlled for the age of adoption of screen-based devices or lifetime duration of exposure. Therefore, the corresponding differential influences that screen exposure might have on age-specific myopia progression rates have not been considered.
The Link Between Screen Time and Myopia Progression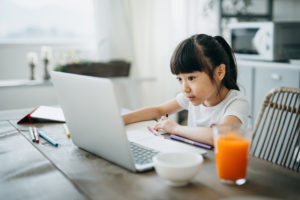 With those caveats in mind, an appraisal of the literature reveals several studies that report strong associations between screen time and myopia. For instance, among 5-15-year-olds examined cross-sectionally in two studies in North India, the risk of myopia was 8 times higher with >2 hours/day of mobile and video game screen time compared to 0-2 hours/day in selected private schools,23 and 8 times higher with >4hr/week of screen time compared to no screen time in a population-representative sample of randomly selected schools.22 Myopia was also more prevalent in Irish children aged 6-7 years and 12-13 years who used smartphones for >3 hours/day compared to those with <1 hour/day of phone screen time (20.3% vs. 8.3%), while each additional minute of daily screen time among students aged 10-33 years, also in Ireland, was associated with a 2.6% increased risk of myopia.17
Evidence from cohort studies also suggests that screen time may be myopigenic. The Copenhagen Child Cohort 2000 Eye Study reported that the prevalence of myopia was as high as 37-44% among Danish teenagers who used screens for >6hr/day and just 0-0.6% among those with <0.5hr/day of screen time, and after controlling for covariates, those with >6hr/day of screen time had almost double the risk of myopia compared to those with <2 hours/day.42 Interestingly, one study of more than 26,000 2-7-year-old Chinese children reported that those whose initial exposure to mobile smart devices were at 0-1 year of age were 4.4 times more likely to have myopia than those who had not been exposed to screens.44
In contrast, several studies found no link between screen exposure and incident or prevalent myopia, including a study on almost 20,000 rural Chinese children45. However, the rural environment was likely protective in that setting as the prevalence was well below that of the general Chinese population, and the categories used to define long vs. short screen time under-estimated the very long durations of screen time that are typical among many children. A Singaporean cohort study investigating early-onset myopia (≤3 years old) also found no increased risk of myopia with more screen time. However, each additional hour/day was associated with more myopic SE and longer AL.25 Similarly, 6-14 year-olds in Tianjin, China, did not have more prevalent myopia with more screen time, but more screen time did predict longer AL and more myopic SE.24 Further research is needed to determine whether these differences in AL and SE observed in young children in these studies are cumulative and predict clinically significant myopic shifts later in development.
What Will the Future Look Like?
The scientific investigation of the effect of screen time on the onset and progression of myopia is still emerging, and additional studies are required, including clinical trials that reduce screen time as a myopia control intervention. However, the robust evidence for the influences of near work and education on the etiology of myopia,46,47 coupled with some of the evidence discussed here, suggests a myopigenic effect of excessive screen time, particularly if children commence engaging with screens from a young age.
Digitalization of children's lives will only continue to increase, with more social, leisure, and educational activities occurring on computers and smart devices. Moreover, in the context of the COVID-19 pandemic, which is likely to continue to require lockdowns and less face-to-face engagement for some time, more screen time is inevitable, and there is a significant need for strategies to mitigate a resultant exacerbation of the myopia crisis. Although further research is still needed, the current evidence supports the notion that eye care providers should recommend less screen time to assist in preventing or controlling myopia in their young patients.
Joshua Foreman, PhD, is the head of research at Plano Pte Ltd, a technology company that develops solutions to manage excessive smart device use and myopia among children worldwide. He is also a research fellow both at the Department of Ophthalmology at the University of Melbourne and at the Centre for Eye Research Australia, where he consults for the World Health Organization. He is also a Visiting Scholar at the School of Global Public Health at New York University, and he holds an honorary position at the School of Public Health at the University of California, Berkeley.
Mohamed Dirani, PhD, MBA, GCAID, is the founding managing director of Plano Pte Ltd and an adjunct associate professor at the Duke-NUS Medical School. He is also an adjunct principal investigator at the Singapore Eye Research Institute and an Honorary Fellow at the Centre for Eye Research Australia.
Arief Salim, BEng, is a senior research scientist at Plano Pte Ltd.
Dilara Koca, MPH, is a research scientist at Plano Pte Ltd and is studying a Doctor of Medicine at the University of Notre Dame, Sydney, Australia.
References