July 17, 2023
By Dwight Barnes, OD, FIAOMC, IACMM
It is essential to schedule some more time for that initial evaluation to get the information you need, and communicate with the patient and the parents so they can see your passion for this specialty. There is a difference between passion and enthusiasm; I do not think you can fake passion.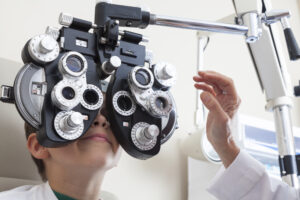 As a high myope, I should have been interested in myopia management immediately. My prescription gradually increased throughout childhood until it reached -12.50D.I have also had multiple laser treatments for lattice degeneration. I am very familiar with not just the limitations of being dependent on corrective eyewear but also the medical side of myopia.
As a practitioner, I was not interested in myopia management immediately. I had a few colleagues who were invested in it, and I knew myopia management studies were in the scientific literature, but I just had not dived into them. After many conversations with my colleagues, it became clear that orthokeratology, soft multifocal contact lenses, and low-dose atropine were effective and evidence based. I eventually caught the myopia management bug in a big way and started focusing most of my continuing education on it to learn as much as possible. When I started getting my feet wet, I enjoyed it, and my patients benefited. At that point, we leaned into internal marketing and ensured that the signage in the office and our educational brochures highlighted myopia management. We wanted it to be very difficult for any patient to make it all the way through our office — regardless of why they were there — without realizing that myopia management existed and that we specialized in it. 
That was about ten years ago, and all our patients now know that myopia management is a sub-specialty that we do and do well. From there, our services grew, and we started getting referrals from parents whose children we treated.
Educating on the Environmental Aspects
When myopic children and their parents come to our practice, and we start discussing myopia management immediately, many are eager to learn more and listen to our concerns. They understand that there are more important reasons to slow down the progression of myopia beyond just the risk of their glasses getting thicker. We talk about the medical risks and why we need to put the brakes on myopia to the extent that we can. 
A key area of patient education is the influence environmental factors can  have on children's visual health. Whether it is in conversations with parents in the exam room or on handouts they can take home and review, I found that parents wanted this information. I also found that I was repeating the same information, so I decided to share it with parents in written form. Now, I provide parents with a handout with all those environmental factors — time spent on digital devices, outdoor exposure, etc. As more research becomes available, I will continue to add to it. For example, I ensure that parents now know about nutrition and sleep and how those risk factors affect myopia. 
I am spoiled when it comes to educating parents because I do not often have to "sell" them why myopia management is essential. I talk with optometrists in other areas of the country — especially rural areas — and this can be a significant roadblock. Fortunately, our patient base is both well-educated and diverse. Many of my patients know what myopia management is before I even explain it. So, I am very lucky that our conversations can quickly pivot to which treatment suits their child — OrthoK vs. soft multifocal vs. low-dose atropine. 
In addition to handouts on myopia, the risks of high myopia, and the importance of lifestyle habits, we also have a wall in our practice with pictures of successful children in our myopia management program. It is certainly not all the kids, but there are probably 30 photos up at any given time, and it highlights what we're doing and the success we have doing it. We can showcase the wide range of patients we have in myopia management programs — children of all ages. When patients come in, especially those on the younger side who may be nervous about starting OrthoK, they can see somebody on the wall who looks about the same age and feel a little bit better about it. The wall also opens conversations with parents who may not specifically be in the market for myopia management but have a relative or a friend who would be, and they can now go back to them and tell them what we are doing. 
Build in Time to Share Your Passion
Scheduling can be one of the biggest challenges we have with myopia management. With so many great software designs, spending time with patients at their initial evaluation is easy because you get the topography and refraction and move on. I like to spend a little more time there because that is where you build a bond with the child, and it builds trust with the parents. 
I want patients and parents to know I am passionate about this service. Myopia management is more expensive than just buying another pair of single vision glasses. If parents are spending money on myopia care, they need to trust the person providing the care. So, it is essential to schedule some more time for that initial evaluation to get the information you need, and communicate with the patient and the parents so they can see your passion for this specialty. There is a difference between passion and enthusiasm; I do not think you can fake passion. 
Getting More ECPs on Board
Looking ahead, we need more eye care professionals providing comprehensive myopia care.  
If another eye care practitioner in your area starts doing myopia management, it is unlikely to affect your patient demand. 
We need more people performing some version of myopia management. Whether that's just OrthoK, whether it is just soft lenses, or whether it is everything. At the very least, we need ECPs to educate parents because myopia management is the standard of care. We owe it to our patients and their parents to offer comprehensive myopia management. 
| | |
| --- | --- |
| | Dr. Dwight Barnes attended Southern College of Optometry, where he graduated Magna Cum Laude, in 2002. After graduation, Dr. Barnes completed a residency in primary care optometry and ocular disease at the Department of Veterans Affairs in Boston, MA. He is co-owner of Cary Family Eye Care in Cary, NC, with his wife Kelly. In addition to routine care, Dr. Barnes has a passion for myopia control and orthokeratology, and he established a Myopia Control Clinic within Cary Family Eye Care to focus on helping slow progression of myopia in young patients. He is a Fellow and Board Member of the International Academy of Orthokeratology and Myopia Control (FIAOMC) and also has the designation International Academy Certification in Myopia Management (IACMM).  He has lectured and written articles on various aspects of practice management and myopia management, and provides consulting services to doctors adding/expanding myopia management services. He is currently the co-host of "The Corrected View," which is the AAOMC's myopia management podcast.  |