September 14, 2022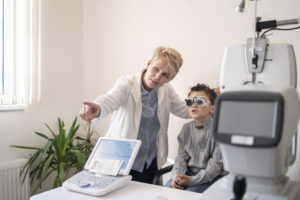 The International Academy of Orthokeratology and Myopia Control (IAOMC) is now offering a new myopia management certification — the International Academy Certification in Myopia Management (IACMM). The certification requires preexisting board certification in optometry or ophthalmology, and extensive hours of directed study/training specified by the Academy. The candidate must demonstrate mastery of specific skills, including epidemiology of myopia, myopia-related pathology, data needed to assess risk and progression, including axial length, and all therapeutic options available to manage this disease. 
The IACMM is achieved through self-guided study of course curriculum and attendance at "Myopia Management Bootcamp," a 12-hour live course (in person or remote attendance) presented by internationally recognized myopia management specialists. After completing course study, the candidate must sit for a comprehensive written and oral exam to demonstrate mastery of established specific skills of myopia management.
"After years of executing our educational program across the globe and seeing the resulting improvement in treatment practices, we believe that this new certification will have significant impact on improving the standard of care of myopia," said Cary M. Herzberg, OD, FIAOMC, President, IAOMC.
The Academy, established in 2000, is focused on educating practitioners and the public about the myopia pandemic, its serious consequences and protocols to assess risk, myopic increase, treatment options, and prevention. Due to the nature of this emerging field, this subspecialty requires a targeted complementary curriculum generally missing from a practitioner's prior education. In response to this gap, the Academy provides cutting-edge education through webinars, an annual meeting, certification and a fellowship program, all targeted at practitioners who want to join the fight against this pandemic disease.
For more information, click here or contact megan@AAOMC.org.