September 15, 2022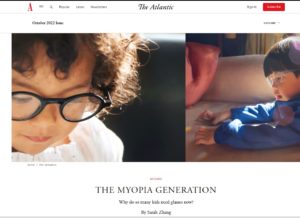 WASHINGTON D.C. — Myopia management is gaining mainstream media coverage with the recent publication of an article in The Atlantic. The article, written by Sarah Zhang, provides a global overview of myopia, including the rates of myopia in Asia, Europe, Africa, and the United States. It also dives into the history of myopia, and what about our current lifestyles is making children more myopic and why the onset of the disease is happening much earlier.
Zhang also talked to leaders in the field of myopia management. The article included insights from Marina Su, OD, Michael Repka, MD, MBA, Medical Director for Government Affairs at the American Academy of Ophthalmology (AAO), Thomas Aller, OD, FBCLA, Christine Wildsoet, OD, PhD, FAAO, FARVO, Liandra Jung, OD, Joe Rappon, OD, MS, FAAO, Barry Eiden, OD, FAAO, FSLS, and Maria Liu, OD, MPH, PhD, FAAO.
Zhang even spent time with Dr. Liu at UC Berkeley's Myopia Control Clinic. She detailed how Dr. Liu started the clinic in 2013, her success with patients, how she communicates with parents, and how her location in the Bay Area of California — and her patients' socioeconomic status — has played a role in parents' willingness to start a myopia management treatment plan.
The article aligns with recent work from the Global Myopia Awareness Coalition (GMAC), in terms of creating consumer-facing media about myopia management and the available treatments. GMAC launched the Little Kid License campaign in 2021, another myopia awareness campaign in late 2021, and most recently, the Summer Staycation campaign.
The goal of this kind of media attention is to raise awareness among consumers about myopia, the risks of untreated myopia, and what can be done to slow children's myopia progression. As mainstream media coverage grows, parents become more exposed to information about myopia, which can only benefit their children's long-term eye health.
To listen to an audio version of The Atlantic article, click here.