April 13, 2021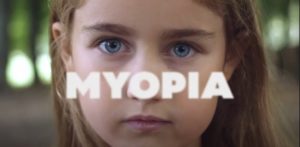 During a presentation on myopia management today hosted by The Economist, sponsor Johnson & Johnson Vision used the opportunity to introduce Acuvue Abiliti.
In a YouTube video announcing the new brand, the company explained that Acuvue Abiliti will offer a suite of therapeutic products for myopia management. It will also include a digital companion to address individual kid's needs as they grow, education and resources for parents and children, and support to eye care providers through personalized professional training and clinical excellence, and increased access to eye care through an ongoing partnership with Sight for Kids, providing free comprehensive eye exams for children in need.
"This is a growing epidemic," said Kelly Gottfried, head of global franchise development at Johnson & Johnson Vision. "We at Johnson & Johnson Vision truly believe that myopia is the greatest eye health threat of the twenty-first century. We've seen the rates of myopia double in the last 20 years, with prevalence over 80 percent in some Asian markets, and 50 percent in the U.S. and in Europe. What's wonderful to hear is that we can all work together to really make a difference.
"Acuvu Abiliti is a brand to help take control of myopia. It will help support eye care professionals and parents, and empower children to really see their futures," Gottfried said. "Together, we can make a difference. We can make a difference through myopia control products, we can make a difference through lifestyle changes, and all working together to improve that awareness."
The webinar, "Reshaping the Future of Myopia: Address a Growing Epidemic" was hosted by Rob Cook, clinical director of The Economist's Intelligence Unit. Panelists included: Gottfried; Robert C. Layman, president-elect, American Optometric Association; Kyoko Ohno-Matsui, professor and chairperson, Department of Ophthalmology and Visual Science, Tokyo Medical and Dental University; and Ajay Royyuru, vice president, health care and life sciences research at IBM.
The panelists covered a wide range of topics, including how ECPs can best manage myopia now and in the future, what lifestyle changes can impact myopia progression, what effect near work has on myopia progression, and where technology is headed moving forward. The panelists unanimously agreed that early detection is one of the most important factors for protecting kids' eye health and slowing the progression of myopia.
"Early diagnosis and treatment is crucial considering myopia progresses more quickly in young children and early onset implies more years of myopia," Dr. Layman said. "It's important that we spread this message with patients and their families. The standard of care for myopic children is changing, and we need to be reviewing this information as many times as is necessary — especially with myopic parents who never had these options presented to them as children."
"Early detection is really key," said Gottfried. "What we like to say is that every diopter matters. So, just making a one diopter reduction in myopia reduces the likelihood of patients developing myopia macular degeneration by 40 percent. It's really important that we all focus on treating patients as soon as myopia is identified."
The panelists also expressed excitement about the future of myopia management, and they believe that by raising awareness and working together, ECPs can best serve their myopia patients.
"This is something that we, and society, will be able to engage and help in," said Royyuru. "This is something that touches everyone. The burden is very high, and together, we are able to do something about it. There are preventative measures. There are interventions. It's about making sure that we find the right people to intervene and provide that intervention at the right point in time. That's an achievable goal."
Click here to view the presentation.