October 11, 2023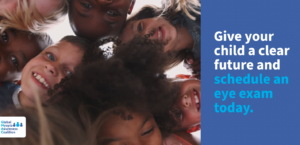 NEW YORK — The Global Myopia Awareness Coalition (GMAC) has taken to Times Square to honor World Sight Day, featuring a billboard in Times Square to draw attention to the growing issue of myopia and the importance of getting children an annual eye exam.
The Times Square billboard is a partnership between GMAC and the Volunteer Optometric Services to Humanity (VOSH) International, featuring an awareness message to consumers that by 2050 one in two people will have myopia. It ends with a call to action to give your child a clear future and schedule an eye exam today. 
In addition to the Times Square billboard, GMAC hosted a booth at the American Academy of Optometry's annual meeting. 
"We are eager to leverage Times Square's visibility to raise awareness about myopia during World Sight Day," said Lisa McAlister, GMAC Chair. "Our goal is to spark conversations about myopia, its impact, and the importance of proactive eye care for children. Additionally, our presence at the American Academy of Optometry annual meeting will provide a platform to collaborate with experts and advance our mission to increase awareness about myopia."
For more information about GMAC, please visit www.myopiaawareness.org.