sponsored content
July 15, 2021
By Kristen Dalli
For employers looking to fill positions, sometimes the candidate that would be a good fit doesn't have the most experience but is passionate about the specialty and is willing to learn and be trained.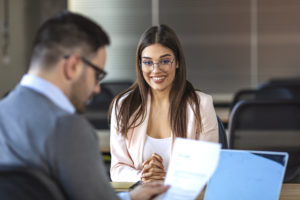 Finding a job in the optical field or finding an eye care professional to fill a role can be a long and often complicated process. With so many options for practitioners, navigating the interview process and ensuring that a resume is attractive to potential employers can be difficult. What are the questions to be prepared for? How do you market your skills and experiences? What's the best way to negotiate a contract? 
Landing A Myopia Management Position
For eye care professionals either just starting out or looking for a new opportunity, Eyes On Eyecare can help create the most attractive resume, share tools for interview preparation, and guide practitioners through the job search process. When it comes to applying for myopia management positions, there are some things eye care professionals can do to make their resumes stand out. 
According to Brett Kestenbaum, DPT, Eyes On Eyecare's Chief Operating Officer and Head of Talent Acquisition, and Priti Gohil, a Senior Recruiter, being as detailed as possible on the resume is of the utmost importance. Even if some eye care professionals may feel unqualified for specific myopia management roles, providing all of the available information about any experience they have in the specialty can be helpful to employers. They explained that even doing one rotation during training is valuable information for an employer to have. 
Additionally, when working with a recruiter from Eyes On Eyecare, those interested in a myopia management-related position should make that clear. Gohil explained that part of her job is editing resumes to ensure that eye care professionals highlight all of their skills and experience. She always adds a detailed paragraph to the start of each resume to give the employer even more information in a concise way. She also recommends that all eye care professionals take the time to really work through their cover letters. 
"Focus on that cover letter because the cover letter is going to be where you can describe in paragraph form both your experience and your passion for the specialty," Gohil said. "You need to be a well-rounded clinician no matter what. For those specifically seeking out myopia management opportunities, this is the place to tell a potential employer exactly what treatments you have experience with and explain what your overall training and experience for myopia management has been." 
What Skills Are Most Important?
When looking at a resume, Dr. Kestenbaum explained that there are some skills that employers who are looking to fill myopia management positions always look for. 
"A lot of times, working with children is essential because you need the right type of attitude and demeanor," Dr. Kestenbaum said. "Another big thing with myopia management is being able to talk to patients and their parents about the products and services that are out there. Those are things that practitioners should focus on in their resumes and cover letters." 
It's also important to note that training is a big part of any job. For employers looking to fill positions, sometimes the candidate that would be a good fit doesn't have the most experience but is passionate about the specialty and is willing to learn and be trained. 
"I always tell employers that are looking for clinicians to fill myopia management roles that even if they don't see it on the resume, don't immediately say, 'Well, they're not working for us,'" said Gohil. "If you do not see something that specifically calls out myopia management on the resume, that doesn't necessarily mean that that candidate isn't the right fit. You want to talk to and engage with all of these clinicians because no matter what, being a medical professional is a lifelong learning journey. It may take a newer clinician a little bit longer to learn the ropes, but [with training] they'll better understand the process of seeing those patients." 
Eye care professionals should also consider highlighting all of their prior job experience; though working as a bartender or in retail may seem unrelated to the eye care industry, having a background in customer service can be attractive to employers – especially in myopia management positions. Communicating with patients and parents is a big part of the role, and having that experience can serve you well as an eye care professional.  
In thinking about what clinical skills are necessary for these roles, candidates should highlight the myopia management treatments they have experience with, the success of those treatment plans, and any relevant experience in the field. Being well-informed on the most current products and equipment is also important because clearly communicating that information with parents and patients is critical for being a myopia management specialist. Dr. Kestenbaum said it's important for candidates to understand the available treatment plans, why those treatment plans work, and how, as a clinician, you'd go about starting a myopia management treatment plan. Additionally, candidates should express in both their resumes and cover letters when they have any formal training or experience with specialty contact lenses, as that's another big part of working with myopia management patients. 
The Most Thorough Job Search
Dr. Kestenbaum explained that one of the most significant benefits of using a recruiting service like Eyes On Eyecare is that it offers a complete experience for eye care professionals either looking for a job or looking to hire. Many practitioners don't have the time to spend strictly on the job search or actively looking for candidates. By utilizing the resources available through Eyes On Eyecare, it ensures that communication stays open on all sides, and candidates get a clear picture of the resume, interview, and hiring processes, as well as the job market as a whole. 
"Finding qualified eye care professionals is extremely challenging, and the biggest reason is supply and demand," he said. "There are some markets that have more supply than others, but we do want to help optometrists or practice owners understand what type of timelines they can expect and what those best hiring strategies might be." 
For any practitioners or employers looking for a job or looking for candidates to fill an open role, Dr. Kestenbaum recommends reaching out to Eyes On Eyecare. 
"We have a dedicated team here," said Dr. Kestenbaum. "We have our two talent acquisition specialists that are happy to chat with eye care professionals at any point in time about really any subject that they'd want to jump on the phone about. In addition, we have a full client success team that is also happy to jump on the phone with people no matter what the questions are."
Using a recruiting service like Eyes On Eyecare can be beneficial for any part of the job search process. Starting as early as when practitioners are still students, Eyes On Eyecare can assist in applying for board exams, explaining the different career options, and preparing future eye care professionals for the interview process. As the leading career development company in the industry, Eyes On Eyecare is an excellent resource for those looking for jobs and those looking to fill open positions.