July 15, 2021
By Joshua Foreman, PhD; Arief Tjitra Salim, BEng; Dilara Koca, MPH; and Mohamed Dirani, PhD, MBA, GAICD
The planoApp has also generated an unprecedented opportunity to conduct big-data analytics on the epidemiology of myopia and engagement with eye health care services at a global scale.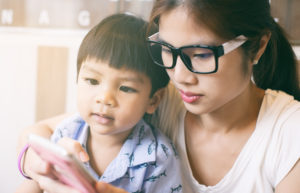 It has become incontrovertible that parents worldwide have all but lost control of their children's use of digital smart devices. Research shows that parents' attempts to reduce their children's screen time are largely unsuccessful because of their inability to constantly police their children's behavior and the addictive nature of these devices.1 One global study reported that many children spend seven or more hours on devices per day, amounting to almost half of their waking lives being wasted on screens.2 
The widespread digitization of our world has produced unquestionable societal and personal benefits. Still, the myriad health problems resulting from compulsive and uninterrupted device use among children — including addiction, learning and social deficits, mental illness, obesity, diabetes, and myopia3-8 — require effective and scalable interventions urgently. 
To address this need through innovation, the Singapore-based company, Plano, was developed in 2017 under the Singapore Eye Research Institute–Singapore National Eye Centre (SERI-SNEC) Ophthalmic Technologies Incubator Programme. Plano's first invention, the planoApp, was designed to give parents control of the way their children engage with smart devices. With its focus on reducing exposure to the environmental risk factors for the onset and progression of myopia, the planoApp has so far enabled almost half a million parents in ten countries to help their children to establish healthy relationships with their devices.
In addition to its direct benefit to users, the planoApp has also generated an unprecedented opportunity to conduct big-data analytics on the epidemiology of myopia and engagement with eye health care services at a global scale. This is because parents of children registered on the app complete a questionnaire on demographics and past ocular history. Their exposure to myopia's risk factors is monitored in real time through the planoApp. This allows Plano to answer questions about device use, eye health, and eye health care service utilization in a very large multi-country sample of children. 
The Importance of Understanding Rates of Utilization of Eye Health Care Services
Population-based research has shown that engagement with eye health care services remains concerningly low in most world regions despite more than 80% of cases of vision impairment and blindness around the world being preventable or treatable with appropriate intervention.9 In the context of the worsening myopia epidemic, it is imperative that children undergo regular and timely eye examinations to both diagnose and correct myopia and implement strategies to limit its progression and avoid sight-threatening complications. Indeed, most authorities, including the American Academy of Ophthalmology (AAO), recommend that children undergo annual or biennial examinations. 
The deployment of eye health services and health promotion campaigns to increase uptake requires data on service utilization rates based on robust research. This ensures efficient targeting of resources to people most in need. Regrettably, most countries do not have these data for various reasons, including the fact that conducting representative surveys can be very costly. Pediatric populations tend to be neglected in ophthalmic epidemiological research because most vision impairment occurs in older adults. Those countries where data on eye health service utilization among children have been reported tend to have concerningly low rates. This is true even in high-income countries such as Australia, where only 29% of children have ever undergone an eye examination.10 These low rates of utilization coupled with the paucity of data are hindering global efforts to reduce the burden of vision loss among children. With five billion people predicted to have myopia by 2050,11 there is a clear need for innovative tools to fill this knowledge gap and increase engagement.
Filling the Data Gap, Right from the Palm of Your Hand
The planoApp, with its large and geographically expansive user base, is helping to fill the gap in knowledge on rates of eye care utilization while also providing education and awareness as well as a conduit through which parents can book an eye examination for their children, thus helping to actually improve utilization rates.
As of June 2021, Plano has collected data on utilization rates of eye health care services by 92,000 children from the age of 2-16 years who reside in Singapore, India, Malaysia, Australia, the United States, the Philippines, Bangladesh, and Indonesia. Utilization rates revealed by the planoApp are striking and highlight the urgent need to implement strategies that increase adherence to examination guidelines.
A troubling 25% of users globally had ever undergone an eye examination, with rates as low as 12% in Indonesia. The results from Singapore, known as the myopia capital of the world, are not much more encouraging, with only 40% having ever undergone an eye examination. This means that the remainder of the pediatric population is at risk of undetected incident or progressive myopia and the plethora of associated consequences.
Worse still were the rates at which children had undergone eye examinations in accordance with recommended guidelines, with only 5% of all users having undergone an eye examination within the past two years. Of those who had ever undergone an eye examination, 80% had done so more than two years ago.
The multi-country data collected by the planoApp reveal the very significant underutilization of eye health care services among children in countries in which the app has been launched, and these low rates are likely to be reflected in other countries. Plano has already begun to use these data to work with key government and industry stakeholders in Asia to develop, implement, and evaluate tailored educational and technological solutions to improve engagement with eye care by children and their parents. Researchers, service providers, and policymakers are also encouraged to begin using these data to inform the development and deployment of health promotion campaigns and health care services.
As the planoApp becomes available in more countries and its user base continues to grow, so too will the evidence base regarding eye care utilization and the epidemiology of myopia, and a deeper and richer understanding of where resources are needed will become available. 
With the majority of vision impairment in children being easily correctable with early detection and intervention, the innovation in data collection, education, and management offered by the planoApp provides a possible way forward in the global fight against myopia, vision impairment, and blindness.
A more detailed breakdown of utilization rates according to sociodemographic factors and myopia status is available here. The data showcased in this presentation refer to the planoApp user base in 2019. The Plano Research and Analytics Team can be contacted for more current insights.
Joshua Foreman, PhD, is the head of research at Plano Pte Ltd, a technology company that develops solutions to manage excessive smart device use and myopia among children worldwide. He is also a research fellow both at the Department of Ophthalmology at the University of Melbourne and at the Centre for Eye Research Australia, where he consults for the World Health Organization. He is also a Visiting Scholar at the School of Global Public Health at New York University, and he holds an honorary position at the School of Public Health at the University of California, Berkeley.
Arief Salim, BEng, is a senior research scientist at Plano Pte Ltd.
Dilara Koca, MPH, is a research scientist at Plano Pte Ltd and is studying a Doctor of Medicine at the University of Notre Dame, Sydney, Australia.
Mohamed Dirani, PhD, MBA, GCAID, is the founding managing director of Plano Pte Ltd and an adjunct associate professor at the Duke-NUS Medical School. He is also an adjunct principal investigator at the Singapore Eye Research Institute and an Honorary Fellow at the Centre for Eye Research Australia.
References