November 15, 2021
By Nathan Bonilla-Warford, OD, FAAO, FCOVD, FIAOMC
More recently, we've shifted our attention to TikTok. It is the only method that I know of that will enable us to educate children about myopia directly, and I've found that they're very interested in the topic.
My time in the eye care field began in the early 2000s. In 2006, I opened Bright Eyes Family Vision Care with my wife, Cristina, a licensed optician. We've since grown to have two locations and three doctors, and in 2014, we opened Bright Eyes Kids, which serves only pediatric patients. As more and more young patients required specialty eye care services, such as myopia management treatments, there was a definite need to have a space dedicated solely to our younger patient base. Also in 2014, Dr. Elizabeth Knighton joined Bright Eyes as an optometrist, and this year she became an owner.  
Getting Started with Myopia Management
I first started learning about myopia management around 2007 after reading a lot of myopia-related research from Earl Smith, OD, PhD. The more I read, the more I recognized that I needed to embrace this treatment area for our young patients. I took the leap by the following year and attended the American Academy of Orthokeratology and Myopia Control (AAOMC) Vision By Design meeting. Over time, I've expanded my myopia management treatments to include both low-dose atropine and soft multifocal contact lenses. 
In the early days of my myopia management education, I sought all of the learning materials I could find. This included information on online forums that my colleagues were posting and private courses from other practitioners. While all of this was beneficial, Vision By Design was so important to my growth when I started with myopia management. 
Offering patients these treatments was very slow going at first. I was just offering OrthoK, we were a small practice, and the public didn't sufficiently understand this modality. One of the biggest things we learned in those early days was that the whole team has to be entirely on board and well trained for myopia management to be as successful as possible. 
From there, I started offering low-dose atropine. I was reluctant, at first, to prescribe my young patients a long-term medication. However, I had parents coming in explicitly asking for atropine, which pushed me to develop a protocol that I felt good about implementing in my practice. Finally, as more and more research has come out, we started using soft multifocal contact lenses with great success. The FDA approved CooperVision's MiSight 1 day contact lenses in November 2019, and they have proven to be a significant addition to our armamentarium of myopia management treatments. 
Treating Patients and Educating Parents
Prescribing a myopia management treatment is very individual to each patient who comes into the office. I believe that one of the most critical factors in long-term success is compliance. Patient compliance was one of the biggest challenges we used to face as a practice. We found that consistent education is essential, as is taking the time to understand each patient. When we're able to choose the modality best suited to each patient's needs and lifestyles, we're likely going to get the best results. 
In some instances, we do choose to go with a combination of treatments. While not the norm, when younger patients are progressing rapidly, we have started using combination treatments. We typically don't start with more than one modality. Usually, we start with one and incorporate another modality as needed.
Educating patients and their parents about myopia management and our treatments is an essential component of our comprehensive eye exams. When we get calls from parents who have heard about our myopia management offerings either by word of mouth or referreal, those conversations are much easier. Typically, if we encounter a potential myopia management candidate during a comprehensive eye exam, we will educate enough so that the parents understand what myopia is, and we'll encourage them to return for a full myopia consultation. We do not make specific treatment recommendations or go into detail about the treatment program at that time. We find that parents are much more receptive when I have dedicated time to go over everything. We also have in-house documents that we can give to parents during the exam to review on their own time. 
Generally, parents are interested to hear more, but they may or may not schedule a myopia consult immediately. For those who don't, if their child's myopia progresses by the following year's exam, they are much more likely to schedule the appointment then. 
Attracting and Educating Patients Online and with Social Media
I've always tried to utilize social media at my practice to attract new patients and share educational resources. We have always been early adopters of social media, heavily using Facebook and Twitter for many years. We also worked with EyeCarePro several years ago to help update and boost our online presence. We created several fun, short videos that we use on our website and other places, and they've gotten a few thousand views. 
More recently, we've shifted our attention to TikTok. Using this platform has allowed us to reach lots of people – specifically a younger audience. It is the only method that I know of that will enable us to educate children about myopia directly, and I've found that they're very interested in the topic. TikTok isn't just for kids, though. Their parents are on it, and serious videos on TikTok make the news regularly. It is a chance to amplify the educational videos that practitioners are putting out there about myopia. 
Something else unique that I've been utilizing more often is our podcast. I have been in podcasting since 2010, and this forum allows me to connect with ECPs in other specialties and with prospective and current patients. With Dr. Knighton, I co-host the podcast, The Bright Eyes Podcast: Advice for Healthy Vision for All Ages. The podcast aims to empower patients by providing the best in friendly, professional, and individualized eye care. We've discussed topics such as outdoor time's impact on myopia, near work and myopia, refractive error, and vision therapy. We've also been able to talk to other experts in the eye care field and to patients about the different episodes during exams. We're reaching people in new ways, which is ultimately beneficial for our practice long term.
Making Myopia Management As the Standard of Care
I would like to see myopia treatments so widely used that they become the standard of care. This would require changes in how myopia is taught to optometrists and ophthalmologists, a wide variety of FDA-approved treatment options, and eventually, vision plans and medical insurance coverage. 
I am very optimistic about the future of myopia management. The rate at which new visual science and treatment options have increased in the last decade alone is astounding. It used to be that months would go by before there was something new to consider. Now, with publications such as Review of Myopia Management, I have cutting-edge information at my fingertips virtually every day.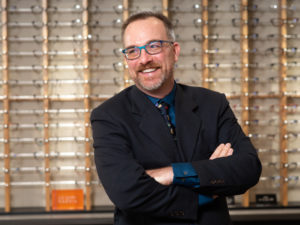 Nathan Bonilla-Warford, OD, FAAO, FCOVD, FIAOMC, graduated from Illinois College of Optometry in 2004 and completed his Pediatric and Binocular Vision Residency there in 2005. He owns Bright Eyes Family Vision Care and Bright Eyes Kids, a practice explicitly dedicated to children's vision care, both located in Tampa, Fla.