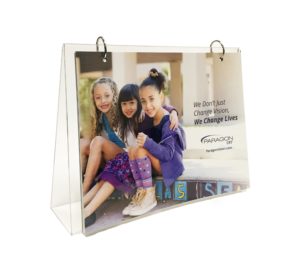 February 24, 2021
SAN RAMON, Calif. – Eye care professionals (ECPs) now have a new, digital format to guide the fitting process for first-time wearers of CRT and CRT Dual Axis contact lenses. CooperVision Specialty EyeCare is debuting its new Paragon CRT Software, which was designed to simplify the contact lens fitting process for ECPs .
With a few on-screen clicks, ECPs will be able to seamlessly change lens parameters, assess fluorescein patterns of different lenses on the same patient, and see simulated lens changes on a patients' eye prior to ordering warranty exchanges. In addition, ECPs can upload patient topography maps and customize CRT and CRT Dual Axis lenses for each patient.
"As trends and demands continue to change, it's imperative for us to deepen our partnership with the specialty eye care community. Part of strengthening our clinical relationships and enhancing our support for the industry is to listen and evolve our portfolio and related tools," said Dr. Juan Carlos Aragón, President, CooperVision Specialty EyeCare. "With the introduction of Paragon CRT Software, ECPs can more confidently fit our lenses on hard-to-fit patients, and ultimately, grow their practice."
Paragon CRT is recommended for patients with <0.75D of corneal astigmatism based on keratometry values. CRT Dual Axis is designed for patients with >0.75D of corneal astigmatism based on keratometry values to enhance the cornea-to-fitting relationship. The innovative Paragon CRT Dual Axis lens is designed specifically for patients with greater than 0.75D of corneal astigmatism and is the go-to lens for many of the world's top fitters.
The software is available to download at ecp.paragonvision.com/software.
CooperVision Specialty EyeCare develops, manufacturers, and provides access to a portfolio of soft custom and rigid gas permeable lens designs, including orthokeratology and scleral lenses to address segments such as myopia management, irregular cornea management, and presbyopia management. The group's brands include Blanchard, GP Specialists, Paragon, Procornea and Soflex.