January 11, 2022
To watch the webinar after Jan. 25, 2022, click here: Telehealth and Myopia Management with Dr. Andrew Pucker.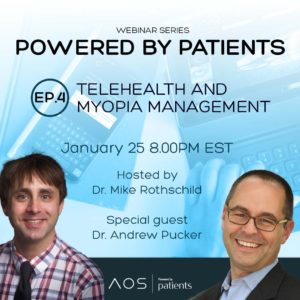 Advanced Ophthalmic Systems (AOS) is sponsoring a webinar about myopia management and telehealth on Tuesday, January 25 at 8 p.m. EST.
The session is part of the AOS Powered By Patients Series, which is hosted by Mike Rothschild, OD, and is designed to focus on different ways for ECPs to use telemedicine to improve efficiency and meet their patients' needs.
In this webinar, "Telehealth and Myopia Management," Dr. Rothschild will be joined by Andrew Pucker, OD, PhD, FAAO, Assistant Professor and Chief of the Myopia Control Clinic at the University of Alabama at Birmingham (UAB). The two will discuss different strategies for using telemedicine with myopia management patients, including how Dr. Pucker makes telehealth part of his curriculum and what's next for it at UAB.
To learn more about the upcoming webinar and to register, click here.