sponsored content
August 1, 2022
By Selena Chan, OD
Johnson & Johnson Vision's introduction of the Abiliti brand is more than just another product we can use. It is a system that helps aid conversations with parents, and I've appreciated the support from both the Johnson & Johnson Vision and Treehouse Eyes teams as we've introduced it to my practice.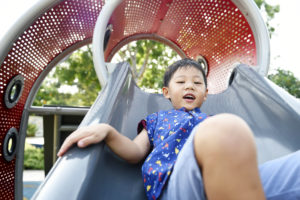 As a leader in providing pediatric myopia treatment in the San Francisco area, I was excited by the introduction of the ACUVUE Abiliti Overnight Therapeutic Lenses for Myopia Management from Johnson & Johnson Vision last year. My experience with the Abiliti brand has been excellent, and I want to share a few tips for those gaining access to this treatment now or in the future. I own two independent practices in a high-density urban area and have offered myopia management for many years. Since partnering with Treehouse Eyes in 2019 to focus on growing my myopia management practice, it has expanded dramatically to the point where I am at capacity and need to open a third location. During this time, I have used a lot of different treatments. So, I was excited when Johnson & Johnson Vision introduced the Abiliti Overnight lens, an FDA-approved orthokeratology contact lens for myopia management.
One thing I have appreciated about the Abiliti brand is the focus on patient care, not product. For example, Johnson & Johnson Vision offers professional education training, including hands-on workshops and online education. And, of course, Johnson & Johnson Vision products are trusted among my parents. Along with my Treehouse Eyes myopia management practice tools, the Abiliti suite was a perfect fit for my practice.
Integrating Abiliti Into a Practice
The educational tools Johnson & Johnson Vision provides span the range of approved treatments outside of Abiliti Overnight lenses, so it is clear to me that Johnson & Johnson Vision is focused on helping each patient find the right treatment for their individual situation. That is a key philosophy all eye care professionals must adopt. Just as doctors manage other diseases, we as eye care professionals are managing the disease of myopia, so we must be comfortable with a variety of available tools to ensure the best outcomes. Our focus should remain on outcomes, not products. Introducing the Abiliti brand to my practice was fairly straightforward, as Johnson & Johnson Vision provided a lot of support throughout the process. All clinical sales consultants for the Abiliti brand are well trained. My consultant, who is an optometrist, is amazing; she helped install the FitAbiliti lens-fitting software into our computer and corneal topographer, provided training to all our doctors and staff, and gives me support and assistance whenever questions come up.
The FitAbiliti fitting software is simple and very user-friendly. We input the patient's refraction, iris diameter, and corneal topography data, and the software will design the lenses for the patient. The ease of use is also ideal for those practitioners who are completely new to myopia management or orthokeratology.   
I have fit the Abilti Overnight lenses on over 60 patients. The early results are promising, with a very strong first fit success rate. I found success fitting kids who are within the indicated range of -4.00D of myopia and under -1.50D of refractive astigmatism. The vision after two weeks has been excellent, with most achieving 20/20 and even 20/15 uncorrected vision. Having such great uncorrected vision is exciting for the kids and can increase compliance in my patients.   
Patient Success
Based on my experience, the Abiliti brand and lenses will play a key role in my myopia management practice moving forward. In general, I find that a custom OrthoK lens is best for young kids whose parents can monitor their compliance and hygiene, kids who are active in sports and want to be free from glasses during the day, and young kids whose soft lenses popped out during the day — especially during school when the parents were not available to help.*
As a Treehouse Eyes provider, we focus on always selecting the right treatment for the right child, so I'll share a couple of patients with whom I've had great success with Abiliti Overnight lenses. I examined a 7-year-old Asian boy with moderate myopia. His parents would like to be able to monitor his lens wear at home and for him to be able to see well to participate in swimming, tennis, basketball, and reading his favorite books. Another patient of mine, a 12-year-old Caucasian girl with mild myopia, did not want to wear glasses. Her mother felt strongly about using an FDA-approved, on-label product for myopia management. Both kids and their parents are happy with great uncorrected vision, comfort of the lenses, and ease of use. 
All of us need to join the effort in managing myopia. Myopia is a chronic, progressive disease that poses the biggest eye health threat in the 21st century. In fact, children under 12 who are diagnosed with myopia are at greater risk of developing high myopia, which may lead to sight-threatening diseases later in life. Every parent should be educated about the disease and potential management options proactively.
Johnson & Johnson Vision's introduction of the Abiliti brand is more than just another product we can use. It is a system that helps aid conversations with parents, and I've appreciated the support from both the Johnson & Johnson Vision and Treehouse Eyes teams as we've introduced it to my practice. Any new product, especially in the myopia management space, takes time to ensure successful practice adoption. It is worth engaging your whole practice staff to ensure everyone is on the same page and has the same message for our patients when discussing myopia and treatment options. When we introduced the Abiliti Overnight lenses in our office, we let all our patients know about this exciting lens to help manage their myopia.
| | |
| --- | --- |
| | Selena Chan, OD, practices at Pacific Rims Optometry in San Francisco and is affiliated with Treehouse Eyes.  She is an early adopter of Johnson & Johnson Vision's ACUVUE Abiliti Overnight Therapeutic Lenses for Myopia Management. Dr. Chan graduated with a Bachelor of Science in Biology from University of California at Davis. She earned her Doctorate of Optometry from Southern California College of Optometry. Dr. Chan is an active member of the American Optometric Association, California Optometric Association, and San Francisco Optometric Society. |
*ACUVUE Abiliti Overnight lenses are also suitable for teenagers and adults.
Important safety information:  ACUVUE Abiliti Overnight Therapeutic (tisilfocon A) Contact Lenses are indicated for use in the management of myopia. They are indicated for overnight wear for the temporary reduction of myopia and should only be disinfected using a chemical disinfection system. As with any contact lens, eye problems, including corneal ulcers, can develop. Some wearers may experience mild irritation, itching, or discomfort. These lenses should not be prescribed if patients have any eye infection or experience eye discomfort, excessive tearing, vision changes, redness, other eye problems, or if patients have any allergy to any ingredient in a solution which is to be used to care for these lenses. Complete information is also available from Johnson & Johnson Vision Care, Inc. by calling 1-877-334-3937 option 4, or by visiting www.seeyourabiliti.com.
PP2022ABL4044