October 2, 2023
By Wes McCann, OD
Initiating a dialogue with a myopic adult about the risks posed to their children requires sensitivity, credibility, and a rich knowledge base. The conversation is not about inducing fear but empowering parents with knowledge and options.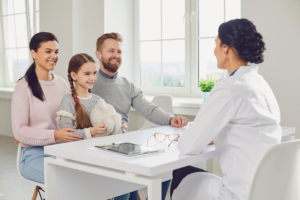 Recent studies indicate that children of myopic parents are at a higher risk of developing myopia and associated complications.1 Here are some ways to effectively discuss these risks with myopic adults, covering both traditional and emerging treatment approaches.
The Genetic Link
Numerous studies highlight a strong genetic correlation in the occurrence of myopia. Children with one myopic parent are at higher risk, and if both parents are myopic, the risk escalates further.2 This makes it crucial for health care providers to discuss these genetic implications with myopic adults.
The Complications
Beyond the need for glasses, myopia can lead to complications such as retinal detachment, glaucoma, and even myopic macular degeneration, especially in cases of high myopia.3 Informing parents of these risks allows for a proactive approach to their child's ocular health. 
Utilizing projection graphs can help you to illustrate where the child can end up if they go untreated. For example, when I am in the exam room with patients and their myopic parents, I frequently reference the article from Drs. Mark Bullimore and Noel Brennan that coined the famous phrase "Each Diopter Matters."4 I explain to parents that each 1.00D increase in myopia is associated with a 67% increase in the prevalence of myopic maculopathy. 
The Discussion: Sensitivity and Strategy
Use Concrete Data: Empirical, peer-reviewed research can lend credibility to your arguments. Visual aids can help simplify complex data. Many industry partners have excellent infographics that help to illustrate the risk of a low, moderate, and high myopes. Making these into a professional poster or print in the exam room can initiate discussions with the parent and/or be used to facilitate discussion.
Personalize the Discussion: Emphasize that although not every child with a myopic parent will develop myopia, the risk is significantly elevated. This should lead to a conversation on preventative measures.
Discuss Treatment Options: The conversation should naturally extend to the emerging options for myopia management. Discuss specialty soft contact lenses designed for myopia control, such as ACUVUE Abiliti 1-Day,** MiSight 1 Day, or VTI NaturalVue 1 Day.* Orthokeratology, a non-surgical procedure that uses specially designed contact lenses to reshape the cornea,5 should also be discussed as an excellent option for myopia management. Myopia control spectacles, designed to create a peripheral defocus curve, are also an excellent option for those not ready for contacts. While they're not yet available in all markets worldwide, as a Canadian practitioner, I've been lucky to have access to several different myopia control spectacle options. In our practice, we've found that they are a great introduction to myopia treatment — especially for the youngest patients. 
These methods can slow down the progression of myopia and are especially useful for children. Sometimes, we'll discuss combining the above methods depending on the child's lifestyle.
Atropine eye drops have also been studied as an effective adjunct therapy to control myopia progression.6 While its exact mechanism is not fully understood, low-dose atropine can be a valuable addition to other myopia management strategies.
Importance of Annual Exams and Progression Measurements
Annual eye exams are critical for tracking the progression of myopia. During these exams, axial length measurements can be taken to monitor the elongation of the eyeball, a primary factor in myopia progression.7 Once a child is enrolled in a myopia management program, we'll follow that child every six months, monitor their refractive and axial length changes, and react appropriately. 
In our office, we've implemented a Myopia Control Program for every patient enrolled in myopia management treatment. While these additional tests are part of the Myopia Control Program, they come at an additional cost to the patient — and their parents — beyond the regular comprehensive eye exam. Part of my discussion with parents is the importance of these regular check-ups and how they can aid in early intervention strategies.
Parents may dismiss or underestimate the risk of myopia. Real-world case studies and exam room infographics can be instrumental in countering such resistance. The key is to stress that preventative actions are not just advisable but crucial for long-term eye health. Kids progress the fastest when they are young, so the earlier we start the intervention, the better results we'll likely get. We can't tell who will be fast progressors,8 so I consistently reinforce to parents that "waiting to see what happens" is not the best method.
Initiating a dialogue with a myopic adult about the risks posed to their children requires sensitivity, credibility, and a rich knowledge base. The conversation is not about inducing fear but empowering parents with knowledge and options. From understanding genetic risks to employing cutting-edge treatments and monitoring, an informed approach can make all the difference.
| | |
| --- | --- |
| | Dr. McCann attended Western University and Nova Southeastern University where he earned three Honours Bachelor of Science degrees, an accelerated MBA, and Doctorate of Optometry. Dr. McCann owns eight practices in London, Ontario, and the surrounding area, and he is a professional consultant for Johnson & Johnson Vision. He has been on the faculty at the Canadian Dry Eye Summit and has lectured at hundreds of events and across various platforms on contact lenses, ocular disease, dry eye disease, pharmaceuticals, and medical equipment. Dr. McCann has taught clinical externs from the Waterloo School of Optometry, has served on the Board of Directors for the Ontario Association of Optometrists from 2016-2018, and is currently on the Board of Directors for Eye Recommend. He has been published in numerous journals, including Review of Optometry and Review of Myopia Management. In 2017, he was a recipient of the Top 20 Under 40 Award for his business achievements and community involvement in London, Ontario. |
References
* Not FDA approved for myopia progression control
** Not available in the U.S. and not FDA approved for myopia progression control
1 Verhoeven, V. J., Wong, K. T., Buitendijk, G. H., Hofman, A., Vingerling, J. R., & Klaver, C. C. (2015). Visual consequences of refractive errors in the general population. Ophthalmology, 122(1), 101-109.
2 Sanfilippo, P. G., Hewitt, A. W., Hammond, C. J., & Mackey, D. A. (2015). The heritability of ocular traits. Survey of ophthalmology, 60(6), 561-583.
3 Flitcroft, D. I. (2012). The complex interactions of retinal, optical, and environmental factors in myopia aetiology. Progress in Retinal and Eye Research, 31(6), 622-660.
4 Bullimore MA, Brennan NA. Myopia Control: Why Each Diopter Matters. Optom Vis Sci. 2019 Jun;96(6):463-465
5 Cho, P., & Cheung, S. W. (2012). Retardation of Myopia in Orthokeratology (ROMIO) Study: A 2-Year Randomized Clinical Trial. Investigative Ophthalmology & Visual Science, 53(11), 7077-7085.
6 Chia, A., Chua, W. H., Cheung, Y. B., Wong, W. L., Lingham, A., Fong, A., & Tan, D. (2012). Atropine for the treatment of childhood myopia: Safety and efficacy of 0.5%, 0.1%, and 0.01% doses. Ophthalmology, 119(2), 347-354.
7 Tideman, J. W., Snabel, M. C., Tedja, M. S., van Rijn, G. A., Wong, K. T., Kuijpers, R. W., … & Klaver, C. C. (2016). Association of Axial Length With Risk of Uncorrectable Visual Impairment for Europeans With Myopia. JAMA Ophthalmology, 134(12), 1355-1363.
8 Brennan NA, Toubouti YM, Cheng X, Bullimore MA. Efficacy in myopia control. Prog Retin Eye Res. 2021 Jul;83