January 3, 2023
By Katherine Schuetz, OD
There is every reason to have your patient base benefit from the exciting practice of myopia management. Knowing what specifics to prepare for will significantly improve your success for your patients and your practice and decrease the stress level to get there.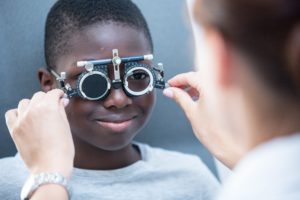 Every person reading this publication is interested to some degree in myopia management. There's a range from the passionate to the reluctant, but ethically, every optometrist and ophthalmologist working with the pediatric population should be practicing myopia management. The challenge for many of us is how to start and make myopia management a seamless boon for our practices rather than a time-consuming interruption.
As every practice is unique, starting with realistic expectations is key. If you're already a busy solo optometrist with a full book of primary care patients, consider adding an associate who can take the considerable personal time to learn the nuances of each myopia intervention and has the chair time available to educate your parents about myopia management. Or, if you already have that full book of patients but want to do myopia management yourself, know that you'll have to sacrifice some exam slots to make time in your schedule for myopia control follow-ups. I've heard from several established optometrists who have added myopia management into their offices but underestimated the clinical time required, and ultimately they stopped offering myopia management services. How discouraging for that office, and how sad for those progressing myopes who won't hear of their options because their clinic did not have the infrastructure in place to make myopia management work.
There are three pillars to making myopia management successful in any practice: doctor education, proper tools, and staff support. If these three pillars are strong, your practice will flourish.
Doctor Education
When I graduated from optometry school in 2000, I had approximately two hours of training on orthokeratology, and it certainly wasn't as a myopia management tool. Today, there are so many available resources doctors can access to learn about myopia management. To serve your progressing myopes well, you must learn the how and why behind every myopia management strategy.
Plan to spend a few non-clinic hours each week on myopia management, especially at the beginning of the learning curve. Commit to attending conferences with a significant portion of CE and workshops on myopia management. Once you are confident in the available tools to slow juvenile-onset myopia (and possibly prevent onset!), you can confidently begin prescribing the most appropriate strategy to each child. The best part of myopia management is that we're constantly adding more tools to benefit our patients, and our industry is committed to research; however, providers should constantly be looking for updates and learning about how those new opportunities fit into our system of patient care. Myopia management should constantly evolve in your office, so ongoing doctor education is vital.
Proper Tools
It's good that patients are impressed with all our cool equipment because when you add myopia management, you need more tools! Topography and optical biometry for axial length are the two most important investments. Even if you decide to tackle OrthoK last and begin your myopia management journey with compounded atropine, or a soft lens option, biometry delivers compelling objective data that refraction alone cannot provide. Having axial length measurements significantly assists in the customization of treatment for any myopia management patient because myopia is an axial length disease.
Topography is a must for OrthoK. When doing OrthoK for adults as a vision correction strategy, topography may have less importance since subjective acuity is the priority, but for young progressing myopes, knowing the size of the treatment and return zones are crucial to optimizing their refractive stability. Topography is also necessary for troubleshooting — you can see the start of a central island from a lens parameter change and address it quickly, rather than waiting for the child to complain to his parent that the eye hurts and is blurry — which is not good for you, the patient, or the practice!
Other essential tools for myopia management success include marketing pieces, well-designed informed consent forms, changing your on-hold messaging, preparing letters to pediatricians, and a slit lamp camera with video. 
Staff Support
Once you have an adequate understanding of myopia management approaches and procure the proper equipment, you need to have a few point staff members who can use the equipment competently and who are trained to answer questions about the myopia management strategies you'll be offering. I think the most significant barrier to myopia management today is the lack of parental and patient understanding of the benefits of reducing the progression of myopia. You will likely run woefully behind in your schedule if you give patients comprehensive narratives on the specifics of myopia management. If you have staff members who can take over parents/patients at the end of your consultation to explain the treatment plan in more detail, review the costs, and discuss the informed consent, the myopia management segment of your practice will succeed. But if you, as the prescribing doctor, attempt to do it all without staff support, you'll spend more clinic time per patient and miss stabilizing many other myopic children whose parents didn't fully understand your rationale and goals.
There is every reason to have your patient base benefit from the exciting practice of myopia management. Knowing what specifics to prepare for will significantly improve your success for your patients and your practice and decrease the stress level to get there. 
| | |
| --- | --- |
| | Katherine Schuetz, OD, is a private practitioner in Carmel, Indiana, where she is a full-time clinician, splitting time between seeing pediatric patients at a primary care pediatric practice, Little Eyes, and teens through adults at RevolutionEYES. She is a Brilliant Futures panelist for CooperVision. |