November 1, 2021
By Carmen Abesamis-Dichoso, OD, MAT, FIACLE, FPCO, FAAO
As it was then a novel idea, eye care practitioners and patients shrugged their shoulders and raised their eyebrows, asking if OrthoK really worked. However, I never stopped training my staff and associates about OrthoK. 
I was recently trying to convince a 39-year-old -9.00D myopic father to get his daughter into our myopia management program with orthokeratology. He shook his head and asked, "Myopia control? Orthokeratology? What is it all about? I have been wearing glasses since I was 8, and I am fine. I know my daughter has my genes, so I'm expecting she will also be nearsighted like me." 
This is just one of the many encounters I get when I talk to parents about myopia management for their children. They pose the same questions since I started incorporating OrthoK into my practice in the early 2000s. 
My Journey with Myopia Management
I was a faculty member at the Central College of the Philippines College of Optometry from 1991-2005, and contact lens practice was one of the courses I taught. Contact lenses had been my focus of interest, but I was able to dive deep into different specialty lenses after receiving the International Association of Contact Lens Educators (IACLE) Educator Fellowship Program in 1994 at the University of Waterloo School of Optometry located in Waterloo, Ontario, Canada. 
However, my experience with OrthoK and myopia management began in 2003. Through the IACLE program, the late Luigina Sorbara, OD, from the University of Waterloo School of Optometry, came to Manila, Philippines, and offered a workshop in OrthoK to optometrists. It was then that my knowledge of OrthoK, the principles of fitting, and the indications for OrthoK were totally changed.
From there, I went on to attend several international and local conferences about OrthoK and myopia management. I attended one of the International Myopia Institute's conferences held in Singapore and Hong Kong in 2006. That was where OrthoK was introduced as a method to slow myopia progression in children.
Several other experts in OrthoK started lecturing and writing about it as a myopia management strategy. I traveled to Hong Kong to learn from Professor Pauline Cho, to Singapore to attend a workshop given by Stan Isaacs, OD, and to the U.S. to attend seminars at the American Academy of Orthokeratology and Myopia Control (AAOMC). Richard Wu, OD, who graduated from the U.S. as an optometrist, also came to Manila to share how to fit his specially designed OrthoK lenses. 
Bringing OrthoK into My Practice
I was one of the first practitioners to introduce my patients to myopia management and OrthoK in the Philippines. As it was then a novel idea, eye care practitioners and patients shrugged their shoulders and raised their eyebrows, asking if OrthoK really worked. However, I never stopped training my staff and associates about OrthoK: how it works, the benefits, qualified candidates, how to present it to parents who have nearsighted children, how to explain the contract for the program, etc. We produced and distributed brochures and pamphlets and always discussed this treatment option with our patients, families, and friends. 
I tried to advertise in the newspaper (which was very expensive in that day and age), but this never brought in any new patients. Instead, my myopia practice grew through word of mouth. One happy patient led to another. By 2015, I proactively promoted myopia management on my practice website, Facebook, and Instagram accounts. 
My staff and associates continue to receive education on OrthoK and other myopia management strategies. We have learned how to introduce it to parents more effectively and ensure parents' questions are answered adequately, even after signing their children up for our myopia management program. 
What Does Myopia Management Look Like Today?
When a parent books their child for an eye exam, we prepare and anticipate the likelihood that the child will be myopic. We start with a comprehensive medical history and comprehensive ocular history. We consider several different questions: Does the child wear glasses? Do any of the parents or siblings wear glasses? When did the child start wearing glasses? We also ask about previous eye care interventions. 
Axial length, corneal topography, fundus photography, binocular vision assessment, cycloplegic refraction, IOP, and a slit lamp examination are performed on each patient. The results and findings are explained to the parent with available options with corresponding efficacies. Our myopia management strategies currently include OrthoK, multifocal center distance soft contact lenses, bifocal executive lenses with prism base in, and low-dose atropine prescribed by ophthalmologists. Every strategy is presented to the parent, and together we choose one that fits the lifestyle and motivation of the child. 
Counseling and follow-up are key critical steps in ensuring that our strategies are successful and meet our goals. For example, an OrthoK patient is seen the day after the first night the OrthoK lenses are worn, then a week later, then two weeks later, then one month later, then three months later, and then six months later. A progress report is sent to parents informing them about the success of the strategy. Baseline axial length is measured and repeated every six months after that, allowing us to determine if the treatment method is effective. 
Myopia control, especially through OrthoK and disposable multifocal soft contact lenses, remains accessible only to those who can afford it. I try to give the option of bifocal executive lenses with a prism to families to make it more affordable. 
Putting My Knowledge into Practice
My passion for myopia management continues. Opportunities to go around the country and educate optometrists on myopia management have presented themselves in recent years, as I was invited to give a lecture to 300 optometrists about the benefits associated with prescribing myopia management treatments.
Then, during the COVID-19 pandemic, I anticipated myopia prevalence would be higher because of the lockdown. Kids, students, workers, and parents were glued to their computers and devices. It was my professional and moral responsibility as an optometrist to educate the Filipino people about myopia. The best medium to deliver the message was to write about it. A significant newspaper picked up my article after I flagged myopia as another raging pandemic. 
While my experience with myopia management has undoubtedly evolved over the years, it is important to me to offer a broad array of treatments in my practice and talk with children and their parents about the many benefits of myopia management.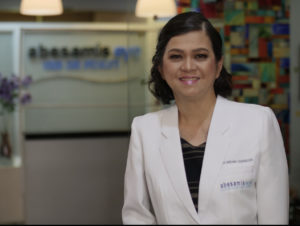 Carmen Abesamis-Dichoso, OD, MAT, FIACLE, FPCO, FAAO, is an optometrist  practicing in Makati City, Philippines. Her practice focuses on myopia management, specialty contact lens fitting for keratoconus, high myopia, high astigmatism, dry eye, irregular corneas, and the pediatric population. She has presented lectures, papers, posters, and workshops locally and  internationally on myopia management, keratoconus, dry eye, and orthokeratology. She was awarded  the outstanding optometrist of the Optometric Association of the Philippines in 2017 and has represented the World Council of Optometry at the World Health Organization.