January 3, 2023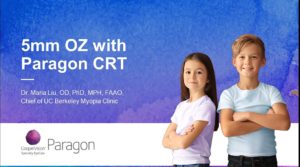 SAN RAMON, Calif. — CooperVision Specialty EyeCare has announced Maria Liu, OD, PhD, MPH, MBA, FAAO, Founder and Chief of the Myopia Control Clinic at the University of California Berkeley, as the host of a new four-part installment of its Myopia Minute video series. Each video segment aims to boost eye care practitioner confidence by providing helpful consultation and practice management tips.
The new videos — which were filmed at CooperVision's state-of-the-art Education & Training Center in Gilbert, Arizona — focus on fitting and prescribing Paragon CRT 5mm Optic Zone Diameter (OZD). Topics include general tips for fitting Paragon CRT  5mm OZD, identifying ideal candidates, and indications for use.
"As the prevalence and severity of myopia continue to increase, it is our job as industry partners to look at the future of myopia management by finding new, innovative ways to support ECPs," said Leah Johnson, OD, FAAO, FSLS, Director of Professional Affairs, CooperVision Specialty EyeCare. "As with everything we do, the Myopia Minute video series is aimed at enhancing ECP knowledge and fitting confidence. Dr. Liu's insider tips and techniques for the Paragon CRT 5mm OZD will be invaluable for the ever-growing base of specialty contact lens practices."
Dr. Liu has performed multiple studies in her own clinic on Paragon CRT 5mm OZD. Her most recent poster — which was co-authored with Liandra Jung, OD — Comparing 5mm and 6mm Back Optic Zone Diameter (BOZD) in Orthokeratology Lens Design, was presented at the Global Specialty Lens Symposium (GSLS) in January 2022, where it won first place.
"This series of videos will highlight real case experiences of patients who have been fit in Paragon CRT 5mm OZD lenses," said Dr. Liu. "ECPs will get a first-hand, behind-the-scenes look on how and when to fit Paragon CRT 5mm OZD, hopefully giving them the confidence to go out and do so in their own practices."
The most recent videos and past episodes are available here.