September 1, 2023
By David Anderson, OD, and Taylor Sprague, OD, FAAO
Clinicians must have frank conversations with parents about the various myopia management options early on. A child's age should rarely be a barrier for these amazing options to not only help them see but also help slow the progression of myopia.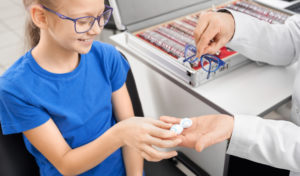 With the growing need for and availability of myopia management treatments, contact lenses are being discussed more and more often in pediatric eye examinations. 
To learn more about how to approach this topic with parents in the exam room, Review of Myopia Management interviewed David Anderson, OD, and Taylor Sprague, OD, FAAO, from Miamisburg Vision Care. The pair answered a few of the most common questions they hear from parents regarding contact lens wear for their children and how they address those concerns to make them feel comfortable proceeding with a fitting.
Review of Myopia Management (RMM): How old does a child need to be to wear contact lenses?
Taylor Sprague, OD: I like to tell parents that readiness for contact lenses is much more about maturity than an age-number. Some 8-year-olds can handle contact lenses, and some 14-year-olds cannot. I like to ask the child: "Is your room clean?" This usually gets a quick response to gauge their general cleanliness and responsibility, both of which are important for contact lens wear.
David Anderson, OD: I think kids at any age can wear contact lenses. The real question is how much parental involvement is needed. The youngest child I fit in contact lenses was 5, but she was quite mature, and both parents were experienced wearers and could help her until she could do it on her own. I also share information from studies that show the other benefits to children in contact lenses with improved quality of life through better self-esteem and performance in daily activities.1 The bottom line: if there is motivation, children can successfully wear contact lenses at a very early age. Still, some clinicians will wait for the child or parent before discussing the various contact lens options. As shown in the graph,2 as of 2015, only 12% of clinicians were recommending contact lenses for children under 8. Even before the mindset of slowing myopia, clinicians still recognized the benefits of early contact lens use for children.
RMM: Parents are often concerned about the risk of infection with contact lens wear. How do you address that?
Dr. Sprague: For all patients in general, especially those under 18, I always recommend daily disposable contact lenses as the best soft lens option. This eliminates the need to store the lenses and keep track of how old the lenses are. A recent retrospective study concluded that children were no more likely to have an infection related to contact lens wear than adults,3 and younger children may be even less likely due to parental involvement in their contact lens wear and care. Establishing good contact lens habits with a child while they are young can set them up for success in the future.
Dr. Anderson: There are risks with everything a patient does, but in most cases, the benefits far outweigh the risks. With so many options in the daily disposable category, we can readily offer an extremely safe option where they have a fresh lens every day. The risk of serious infection is significantly lower with clean lenses daily compared to reusable lenses.4 Ultimately, I help the parents understand the benefits to their child, and I reinforce the fact that contact lenses are a low-risk, high-reward scenario.
RMM: OrthoK requires children to sleep in contact lenses, but this is always a more significant risk than with daily wear contact lens patients. Why would this be a good option for a child?
Dr. Sprague: I think orthokeratology is the best option for children because the parent has more control over the contact lenses, as they are only wearing them at home. The parents can supervise insertion and removal without worrying about a lens falling out at school, on the soccer field, etc. Despite the adage to "never sleep in your contacts," infection due to contact lenses is rare in these children — likely due to proper adherence to daily cleaning regimens and the reduced number of total hours of lens wear time.
Dr. Anderson: The primary difference with OrthoK is that the lenses are on a patient's eye significantly less than other "overnight wearers." Since the lenses are only worn at night, and not during the day, the typical patient wears the lenses for eight to 10 hours in a 24-hour day, not all 24 hours. I love that these patients have an excellent quality of life the entire time they use their eyes to see. For them, there is no need to have backup glasses, and they have a controlled environment while wearing contacts — at home while sleeping.
Age Isn't a Barrier
Contact lenses have tremendous benefits in the treatment of myopia and the management of myopia progression. Clinicians must have frank conversations with parents about the various myopia management options early on. A child's age should rarely be a barrier for these amazing options to not only help them see but also help slow the progression of myopia.  
| | |
| --- | --- |
| | Dr. Anderson is a graduate of The Ohio State University College of Optometry and has been a partner at Miamisburg Vision Care for nearly 20 years. Since becoming partner, he has more than tripled revenues, while operating a practice that has grown to include 20 staff and four doctors. He has shown the ability to manage at a high level during his tenure on the Board of the Ohio Optometric Association, while successfully passing several new laws to benefit Ohio optometrists during his year as President of the OOA. He continues to serve on multiple committees at the state and national level, maintaining strong connections with leaders in all aspects of the industry. Now, he is taking his leadership experience and operations skill set to Optometric Management Group, a large group with over 15 locations in Ohio, as Chief Operations Officer. |
| | Dr. Taylor Sprague is a 2020 graduate of The Ohio State University College of Optometry. After graduation, she completed a residency in Binocular Vision and Pediatrics at Indiana University School of Optometry and is passionate about children's vision care. She has been an associate optometrist at Miamisburg Vision Care for the last two years, and her special clinical interests include strabismus, amblyopia, and myopia management. She enjoys both domestic and international optometric service work and has provided eye exams at free clinics around Ohio and also in Jamaica. |
References: