February 15, 2023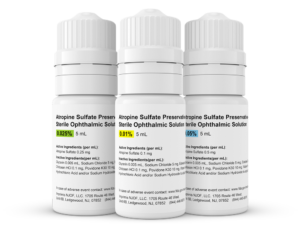 NASHVILLE, Tenn. — U.S. pharmaceutical company Harrow has released its compounded, patent-pending formulas of low-dose atropine. Eye care professionals will be able to access Harrow's formulations through ImprimisRx, the company's compounding and mail order subsidiary pharmacy.
"Our mission has always been to help our eye care professionals address their patients' unmet needs and to make ophthalmic medications both accessible and affordable," said Mark L. Baum, chairman and chief executive officer of Harrow. "The availability of these innovative compounded atropine formulations is in keeping with our mission. We believe ophthalmologists, optometrists, and the millions of Americans who may benefit from topical atropine therapy will appreciate the tremendous value these patent-pending formulations offer."
Key attributes of Harrow's next generation atropine formulas include:
They undergo validated analytical tests to ensure consistency, potency, and stability.  

They do not contain either preservatives or boric acid.

They have a physiologic pH of 5.5.

They may be stored at room temperature for up to 180 days.
Eye care professionals can order these new compounded atropine formulations either online at Harrow's recently launched website atropine.com or by calling or texting 615-437-4690 to speak to ImprimisRx Customer Service.
Compounded formulations may be appropriate to prescribe for patients with clinical needs that are unmet by FDA-approved drug products. Compounded medications are not reviewed by the FDA for safety or efficacy. ImprimisRx does not compound copies of commercially available products.