November 10, 2021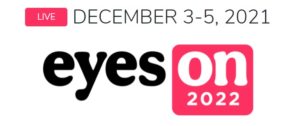 SAN DIEGO, Calif. — Eyes On Eyecare is set to host a virtual event for eye care professionals, December 3-5, 2021: Eyes On 2022. Attendees will receive 11 hours of free COPE-approved CE, seven hours of free CME, and over 30 hours of additional live education from ECPs.
The educational program will place a strong emphasis on myopia management, with four sessions focused on the latest research and advancements in the field:
Updates in Myopia Control: Beyond 20/20 (75078-GO): Hosted by

Laura Goldberg, OD, MS, FAAO, Dipl. ABO, attendees will learn about the new developments in myopia control and management. 

Orthokeratology: Reshaping Vision (74712-CL): Attendees will learn the ins and outs of OrthoK for myopia management with

Anith Pillai, OD, FSLS. 

Implementing Myopia Management in Your Practice:

Kate McClure, OD, MS, FAAO, will discuss practice management strategies and how to add myopia management to your primary care practice. 

Upgrading your Myopia Management Practice for 2022: A Practice Management Discussion:

Andrew Neukirch, OD, will discuss expanding your investment in myopia management. 
"Myopia is such a cutting-edge field with so much new research and innovations," said Jennifer Gould, OD, MS, FAAO, Dipl. ABO, and the moderator of the Clinical Track at Eyes On 2022. "Eyes On 2022 focuses on myopia to ensure optometrists are on top of the latest updates in this field and can better serve patients."