November 1, 2023
By Melanie Frogozo, OD, FAAO
While recently FDA-approved treatment options are available, it benefits patients and providers alike to have an arsenal of effective treatment options — be they approved or off-label treatments.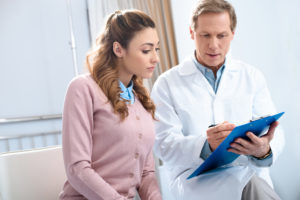 In the past, the progression of juvenile myopia was not prevented. Instead, the resultant refractive error was simply corrected with single-vision spectacles or contact lenses. For a variety of potential reasons, the incidence of myopia is now on the rise globally. With increasing awareness of the myopia pandemic, patients and providers are seeking preventative treatment options. 
The goal of treating myopia as a disease is to decrease its burden and reduce the risk of developing high myopia, which can lead to a variety of deleterious outcomes. There are, however, barriers to initiating myopia management treatments. The public and eye care professionals are accustomed to refractive correction, and third-party coverage for myopia management treatment is lacking. Until recently, there were also no treatments approved by the United States Food and Drug Administration (FDA) for myopia progression control, and even today, many treatment options are prescribed off-label. While off-label use of therapeutics is common in medical practice, it can be an additional barrier limiting the treatment's acceptance. 
Children are normally hyperopic, so pediatric patients who are even slightly myopic are at risk for developing high myopia — especially if there is a family history of high myopia. The goal of myopia management treatment is to, as early as possible, slow the myopic progression until adulthood. There is no myopia management treatment effect from single-vision spectacles or contact lenses.1 Likewise, bifocal or progressive lenses show modest and inconsistent promise for myopia management.1 Center distance multifocal contact lenses designed to provide a peripheral defocus signal to the retina effectively slow the progression of myopic refractive error and axial elongation.2 Similarly, orthokeratology can also effectively retard myopic progression.1 Pharmacologic treatment with low-dose atropine also limits myopic progression.3,4 Historically, these treatments have been prescribed off-label, although that does not mean there is a lack of supportive evidence. 
Addressing Informed Consent
Prescribing myopia management treatments off-label requires an extra level of consideration. Practitioners must stay abreast of the developments in the field, which are nontrivial in this fast-moving subject. There should be a formal process of informed consent to ensure the patient (and their parents/guardians) are aware of the potential risks and benefits of the treatment. In addition, regular follow-up visits should also be scheduled to monitor the treatment effect closely and discover and remedy potential adverse events such as ocular inflammation or injury. 
Regarding the risks, the available effective treatment options for myopia management are far from experimental or cutting-edge and are largely understood. With proper hygiene, care regimens, and parental supervision, contact lens wear in young children is associated with a low level of unwelcome outcomes.5,6 With parental oversight, even very young children can successfully wear contact lenses on an ongoing basis.5-7 Topical ophthalmic low-dose atropine drops are currently sourced from compounding pharmacies that may differ in formulations and quality control. Reliable sources exist, however, and the side effects of low-dose atropine treatments are usually mild and mostly limited to unwanted pupil dilation. Nevertheless, patients with symptomatic photosensitivity can be prescribed tinted or photochromatic spectacle lenses to help with this side effect. 
Regardless of treatment modality, maximally effective myopia management should continue until eye growth is complete and the lack of myopic progression defines the success of the treatment. Patients should be educated to celebrate the absence of worsening myopia.
Off-Label vs. FDA Approval
When considering the use of off-label treatments, it may be worthwhile to compare the off-label options to the approved treatments that are currently available. The MiSight 1 day contact lenses from CooperVision were FDA approved in 2019, and they have been proven effective for decreasing myopic progression.8 This lens uses similar center distance multifocal optics as many daytime wear contact lenses commonly used off-label for myopia management. In addition to soft lenses, other modalities, such as GP and hybrid lenses, are available in center distance multifocal optics for off-label myopia management use. 
While the supportive evidence for an FDA approval is specific, the principles are generalizable to the off-label treatments that preceded them. Thus, the profile of risks and benefits are essentially identical, and it is up to the practitioner to determine the ideal course of action. If the treatment effect is not achieved in a reasonable amount of time, then another treatment option may be initiated, whether that is an approved therapy or one stemming from off-label use.
By its nature, preventing myopic progression largely occurs in children and adolescents, which, combined with the off-label treatment modalities, presents some challenges for patients, providers, and regulatory bodies. Understanding and communicating the risks and benefits of treating myopia is vital to successfully implementing it in your practice. The wide variety of off-label treatment options reflects the grassroots origin of considering myopia as a disease worthy of being prevented. While recently FDA-approved treatment options are available, it benefits patients and providers alike to have an arsenal of effective treatment options — be they approved or off-label treatments. 
| | |
| --- | --- |
| | Melanie Frogozo, OD, FAAO, is the owner of Alamo Eye Care in San Antonio, Texas, where she directs the Contact Lens Institute. |
References