September 26, 2023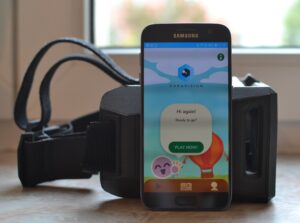 BERLIN, Germany — Dopavision has successfully completed enrollment for its MyopiaX-1 clinical trial. MyopiaX-1 is a randomized, active-controlled trial to evaluate the safety, tolerability, and clinical outcomes of MyopiaX in pediatric participants with myopia.
"Pediatric myopia is a global public health problem that presents a significant burden for children, with an increased risk of long-term eye health complications and impaired quality of life," said Mark Wuttke, CEO of Dopavision. "We designed our treatment approach to control myopia progression as a non-invasive, non-pharmaceutical method. Developed as a smartphone application, MyopiaX is accompanied by fun virtual reality content, easy for children to use, and has the potential to broaden access for a larger number of people suffering from myopia. The MyopiaX app administers an intervention that targets the eye's innate growth mechanisms using blue light delivered to the optic nerve head. The MyopiaX-1 study is designed to provide the first clinical insight into the effects of MyopiaX, and we are very pleased to have reached this important milestone with the completion of the trial enrollment."
The MyopiaX-1 clinical trial is a proof-of-concept investigation generating the first clinical evidence with MyopiaX. More than 100 children between the ages of 6 and 14 years with progressive myopia and a refractive error between –0.75D and –5.00D were randomized to participate in the 12-month trial. The enrolled participants were randomized in a 2:1 ratio to receive either MyopiaX or myopia control spectacles for the first six months. During the second half of the study, participants in the MyopiaX group will add the myopia control spectacles. An independent Data Safety Monitoring Board reviews the clinical safety outcomes of the randomized trial participants on a quarterly basis. Dopavision is developing MyopiaX as an active medical device.
The first clinical results are expected in the beginning of 2024 and the 12-month MyopiaX-1 trial is scheduled to be completed in September 2024. The MyopiaX-1 trial is being conducted at 10 clinical sites in Germany, the Netherlands, Portugal, Spain, and the United Kingdom, including:
Südblick GmbH, Augsburg, Germany
MVZ Makula-Netzhaut-Zentrum Breyer Kaymak, Düsseldorf, Germany
BeyondEye Clinic, Köln, Germany
University Medical Center, Johannes Gutenberg University, Mainz, Germany
University Eye Hospital Tübingen, Tübingen, Germany
Erasmus University Medical Center, Rotterdam, Netherlands
University of Minho, Braga, Portugal
Hospital Sant Joan de Déu, Barcelona, Spain
University Complutense of Madrid, Madrid, Spain
Moorfields Eye Hospital NHS Foundation Trust, London, United Kingdom
Centre for Eye Research Dublin, Technological University Dublin, Dublin, Ireland (Trial Coordinating site)