May 6, 2021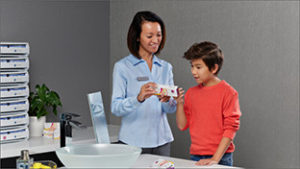 SAN RAMON, Calif. – CooperVision Specialty EyeCare announced that it will be producing new educational content about specialty contact lens fittings. The company has created full-length webinar sessions and one-minute video clips, and both are designed to guide ECPs through the fitting process for the Paragon CRT lenses and OneFit scleral lenses.
The Minute series delivers concise, minute-long video segments filled with valuable information designed to maximize ECPs' effectiveness. "The Myopia Minute" for Paragon CRT and "The Onefit Minute" for Blanchard scleral lenses aim to build knowledge and fitting confidence with insider tips and techniques from the industry's leading orthokeratology and scleral lens experts. The first four Minute videos are now live and can be found here, while Onefit Minutes can be viewed here.
CooperVision Specialty Eye Care will also host one webinar per month for the remainder of the year. Each webinar will be presented by an OrthoK or scleral lens expert. Upcoming webinar topics and timeline are as follows:
May: Toric Haptics & Quadrant Specific Landing Zones with Onefit MED & Onefit MED+
June: Paragon CRT Fitting Software
July: Stand Out and Change Lives with Paragon CRT
August: Fit Like a Pro with Paragon CRT
September: How to Grow Your Practice with the Onefit Family of Scleral Lenses
October: Decentered Multifocal Optics with Onefit MED and Onefit MED+ Scleral Lenses
November: Instrument Driven Fitting – Using OCT to Customize Your Fit
December: Insider Tips and Techniques for Successfully Presenting Paragon CRT to Your Patients.
"Our new resources are designed to provide eye care professionals with the information they need and education they want as they build and grow their specialty lens capabilities," said Juan Carlos Aragon, president, CooperVision Specialty Eye Care. "We view all ECPs who prescribe our specialty contact lenses as partners. As such, we want to provide them with world class support and invest in their success."
To receive webinar registration information and the weekly Minute videos, sign up for email communications here.