September 1, 2023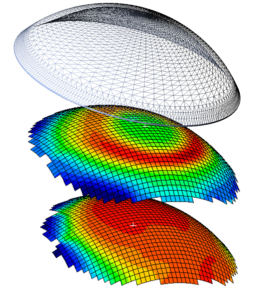 LAKEWOOD, Colo. — Acculens has announced its latest orthokeratology lens, NewVision SC — a corneo-scleral OrthoK design. The lens has received clearance from the FDA. It is designed exclusively from Contamac Infinite (tisilfocon A) material.
The large diameter design provides wear-time flexibility and comfort, and the lens utilizes four distinct zones to create a comfortable cornea-scleral lens for daily wear:
Base Curve/Optic Zone: The base curve is designed to be flatter than the central corneal curvature to create the desired myopia reduction effect. The base curve radius is determined by combining the patient's flat K reading and the spherical refractive error. The width of the back optic zone can be customized to the practitioner's preference for each individual patient.
Reverse Curve Zone: The reverse curve zone begins outside the optic zone and realigns the flatter than K back optic zone to the peripheral cornea. This area is controlled in microns to adjust the sagittal depth of the central lens. The amount of change required in microns is calculated from the corneal elevation data for each individual eye along two key meridians.
Corneal Alignment Curves: The NewVision SC Daily Wear OrthoK lens utilizes multiple alignment curves. The alignment curve widths are determined based on corneal diameter. This allows for optimal centration and an even lens weight distribution. Standard curves are calculated from the corneal elevation data for each individual eye along two key meridians.
Corneal-Scleral Curves: For optimal comfort, the NewVision SC Daily Wear OrthoK lens incorporates corneal-scleral curves. This area of the lens will vault the limbus and gently tuck under the lids. A subtle lift over the limbus and off the sclera allows for proper tear flow under the lens and allows daytime comfort while wearing the lens. This curve is calculated from corneal scleral elevation data when available.
All parameters of the lens can be adjusted independently of each other to ensure optical comfort and the best fit for each patient. No fitting set is required, and all patient files are directly uploaded into the AccuLens CAD/CAM design software.
The lenses are created exclusively with Medmont, Eaglet ESP, and Pentacam CSP bi-elevation data. This new technology results in improved comfort and greater patient satisfaction. To be a certified fitter of NewVision, an Eaglet ESP, Medmont, or Pentacam CSP is required.
To learn more about NewVision, contact Acculens at 1-800-525-2470.