October 9, 2020
Two winners of the Silmo d'Or awards are related to myopia management. This year's awards ceremony was virtual, streamed live online on Saturday, October 3, and recognized the creativity of optical products for design, innovation and technology. Among the winners were the Topcon MYAH and the HOYA Vision Care MiyoSmart lens.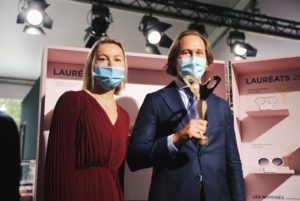 The Topcon MYAH was launched in the European market earlier this year. Among its capabilities are corneal topography and axial length measurement, making it an appropriate instrument for eye care professionals interested in building, managing and growing a myopia service.
The HOYA MiyoSmart spectacle lens was developed to address and manage myopia in children through years of partnership with the Hong Kong Polytechnic University and launched in Hong Kong and the Peoples Republic of China in 2018. The MiyoSmart lens, an easy-to-use, non-invasive treatment to control myopia, has been shown to slow the progress on average by 60 percent based on results from a two-year clinical trial published in the British Journal of Ophthalmology.1
"We are honored to receive this award and for the recognition of innovation it implies. MYAH is ideally suited to combat the global crisis of both myopia and dry eye diseases. Its compact and multi-modal versatility demonstrate Topcon Healthcare's continued commitment to eye care. With MYAH, our doctors can easily build a myopia service within their practice, educate patients on the implications of myopia and dry eye disease, and manage their patients' conditions, while growing their medical practice," says John Trefethen, Global VP of Product Design and Marketing at Topcon Healthcare.
"Innovation and collaboration to bring the best solutions to Eye Care Professionals and their patients is at the core of HOYA Vision Care's mission," says Alexandre Montague, CEO HOYA Vision Care. "It is an honor to be recognized by our peers receiving the Silmo d'Or Award for our ground-breaking MiyoSmart lens which is successfully managing and controlling myopia in children."
1Lam CSY, Tang WC, Tse DY, Lee RPK, Chun RKM, Hasegawa K, Qi H, Hatanaka T, To CH. Defocus Incorporated Multiple Segments (DIMS) spectacle lenses slow myopia progression: a 2-year randomised clinical trial. British Journal of Ophthalmology. Published Online First: 29 May 2019. doi: 10.1136/bjophthalmol-2018-313739