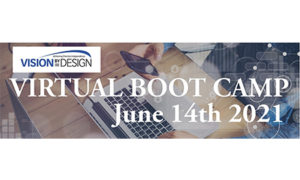 May 3, 2021
The American Academy of Orthokeratology and Myopia Control (AAOMC) is holding a virtual boot camp to teach ECPs the ins and outs of orthokeratology starting on June 14. The program offers attendees the opportunity to tune into live monthly webinars, access on-demand lectures, and interact with fellow attendees and leading experts in the eye care field. 
The OrthoK Boot Camp will cover a wide range of topics, including: 
the epidemiology of myopia 

options for managing myopia 

how and why OrthoK works

fitting OrthoK lenses

ideal candidates for myopia control 

troubleshooting OrthoK fittings

practice management solutions

topography

scleral lens fittings

staff training. 
These sessions will feature several leading ECPs in myopia management, including Monica Allison, OD, MBA, FIAOMC, FSLS; Nick Despotidis, OD, FAAO, FIAOMC, FCOVD; Roxana Hemmati, OD, FAAO, FSLS; and Randy Kojima, OD, FAAO, FBCLA, FSLS, FIAOMC. 
With the virtual boot camp, attendees can watch and re-watch sessions and webinars that they missed or have questions about. Participants have the freedom to go at their own pace, and they will also have the support of other attendees and session lecturers to answer their questions throughout the entirety of the program. 
The Virtual OrthoK Boot Camp will run from June 14, 2021, through June 14, 2022. To learn more, and to register, click here.