July 1, 2021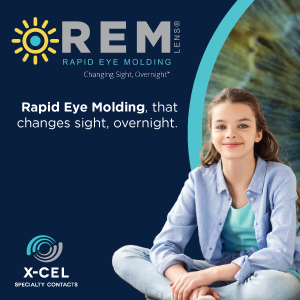 DULUTH, Ga. — X-Cel Specialty Contacts is expanding its orthokeratology designs with the new REMLens. Specifically for myopia management, the new lenses are designed to create a Rapid Eye Molding (REM) effect on wearers.
REMLens can be prescribed to patients of all ages who are diagnosed with low-to-moderate myopia (up to -5.00D sphere and up to -1.50D of astigmatism). With an 89% first fit success rate, REMLens offers certified eye care professionals a lens design with a broad range of parameter flexibility and a significant reduction in chair time when fitting empirically from Ks and Rx. REMLens features four independently adjustable fitting zones, five diameter sizes — each with three optic zone options, and the Dynamic Edge Profile, providing on-eye comfort in an open and closed eye setting.
Additionally, certified eye care professionals utilizing the online REMLens Calculator can reduce chair time on new fits, or re-fits, and maintain historical patient information through uploadable corneal topography maps, fluorescein images, and video files. The REMLens Calculator minimizes potential financial loss related to excessive chair time when utilizing multiple diagnostic lenses to achieve an acceptable fit. REMLens tools can also be used to support replacement lenses of other leading OrthoK lenses, simplifying and eliminating concerns about re-fits.
"REMLens delivers on our strategy of offering eye care professionals the latest orthokeratology technology with easy-to-fit and highly adjustable parameters, regardless if the patient is a new fit or needing a re-fit," said Derrell James, Vice President and General Manager, X-Cel Specialty Contacts. "The introduction of REMLens will help ensure that patients have access to this life-improving modality, and when prescribed, may reduce vision-threatening complications that higher levels of worsening myopia present, such as retinal detachment, macular degeneration, cataract, and glaucoma."
REMLens may be ordered directly through X-Cel Specialty Contacts or through the exclusive distributor ABB Optical Group's Specialty Vision Products division.