Feb. 3, 2020

"None of us is as smart as all of us."
By Tony Sommer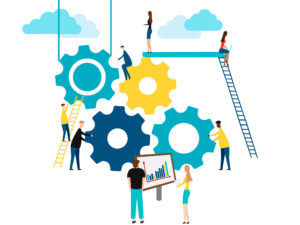 These straightforward words from author Ken Blanchard pack a powerful message. Together, we know more and can accomplish more.
Collaboration is required to manage and defeat the global myopia scourge we face today. Unfortunately, far too often, myopia is viewed as a simple optical nuisance instead of a complex process associated with serious ocular pathology.1 It may be shocking to most, including parents, that myopia, even in low amounts (starting with one diopter), has shown a statistically significant increased risk for retinal detachments and glaucoma.2,3 Also troubling is the increased risk for these eye diseases with growing amounts of myopia.2,3 Additionally startling, there exists no evidence of a "safe" level of myopia for any of the known eye diseases associated with myopia.1
I describe this ocular research as "frontier science," and it is encouraging that dedicated researchers are working diligently to discover effective methods to help halt myopia progression. Early intervention and education with children and their parents are, therefore, paramount. However, a recent Global Myopia Awareness Coalition (GMAC) survey of approximately 4,000 U.S. parents reported that parents ranked annual visits to the eye doctor as less important than visits to the dentist or pediatrician, and a mere 27% reported taking their children to an optometrist in the past year.4 Additionally, 88% of parents believed that comprehensive eye exams are not necessary until children enter school, and 48% believed that a pediatrician could conduct the eye exam.4 In contrast to regular visits to the dentist or pediatrician, parents reported waiting for a comprehensive eye exam until something was "wrong," such as children squinting more than normal.4
Waiting until something is "wrong" can often mean that myopia has existed for some time and that a child's academics, confidence level, and sports performance may have already been affected negatively. In addition, parents often are not aware that there are myopia management options available beyond traditional glasses or contact lenses. The Global Myopia Awareness Coalition (GMAC) was recently formed to address the gaps in public and parental awareness and to provide accurate information regarding the public health challenge of childhood myopia. The GMAC is organized under the World Council of Optometry (WCO) and has joined forces with numerous corporate eye care companies and stakeholders in the hopes of reducing the risk of vision impairment and blindness due to myopia.
GMAC launched its first parent-oriented social media campaign in the United States, and initial results are encouraging. With a reach of over 2.4 million viewers, the campaign uses social media influencers – "mommy bloggers" – to talk about being on a #Visionmission with their children. These influencers documented a day of activities, making the trip to "the eye doctor" fun and engaging while discussing the risk factors associated with myopia. GMAC companies and organizations are amplifying these influencers through their own social media channels as well. The campaign lasts to April 10.
Visioneering Technologies, Inc. recognizes the importance and urgency of the myopia epidemic and is a founding member of GMAC. The coalition recognizes that working together, we can do much more to help mitigate childhood myopia. We recognize the critical need to provide unified education to the public, eye care professionals, parents, and children alike. Perhaps it is simply that parents have not received sufficient information and education regarding the importance of proactive eye exams and eye care.
Because I believe so strongly in the mission of GMAC, I invite additional eye care industry leaders and professional organizations to join in our offensive against myopia. By unifying our efforts and expertise to help prevent vision loss from myopia, together, we truly can do more – since "none of us is as smart as all of us."
Flitcroft DI. The complex interactions of retinal, optical and environmental factors in myopia aetiology. Progress in retinal and eye research. Nov 2012;31(6):622-660.
Risk factors for idiopathic rhegmatogenous retinal detachment. The Eye Disease Case-Control Study Group. American journal of epidemiology. Apr 1 1993;137(7):749-757.
Mitchell P, Hourihan F, Sandbach J, Wang JJ. The relationship between glaucoma and myopia: the Blue Mountains Eye Study. Ophthalmology. Oct 1999;106(10):2010-2015.
Global Myopia Awareness Coalition. New Survey Reveals Vision Is Deprioritized by Parents in Children's Overall Health. 2019.
Tony Sommer serves on the board of the Global Myopia Awareness Coalition and is the senior vice president of sales and marketing at Visioneering Technologies, Inc.